Ryzen 5000 Series Product Details
Just a couple of days ago, AMD had announced their brand-new lineup of desktop processors. The lineup was officially named the Ryzen 5000 series. This is simply to avoid confusion with the newest 4000 series laptop processors. Which were released just a couple of months back. AMD says the 1st Ryzen CPU generation new Zen architecture would age like fine wine. Well, it has been 4 years since then so hopefully, they will live up to that promise.
The latest AMD Ryzen 5000 series are using the newest Zen 3 architecture and currently has only four CPUs announced. Starting at the lower end, we have the AMD Ryzen 5 5600X which is a 6-core 12-thread 3.7GHz thread unlocked desktop processor with the boost clocks reaching up to 4.6GHz. Next in line is the AMD Ryzen 7 5800X, an 8-core 16-thread 3.8GHz unlocked CPU with boost clocks achieving 4.7GHz. Following it is the AMD Ryzen 9 5900X 3.7 GHz CPU with the boost clocks coming in at 4.8 GHz, this 12-core, 24-thread beast is the flagship CPU of the series. Last in line is the AMD Ryzen 9 5950X which is a whopping 16-core, 32-thread processor with a base frequency of 3.4GHz and boost clock speed of 4.9GHz.
It is extremely likely that AMD will release some CPU models that fall in between these four in terms of performance. We can also expect to see a G version CPU of the 5000 series which features integrated graphics. Both the 2000 and 3000 series had two models each so expecting to see such 5000 series CPU is entirely possible. Since the new lineup of CPUs is not available for purchase, and no test samples have been sent to reviewers at the time of writing this, we don't know whether the boxed versions of the CPUs will come with a Stealth Cooler, LED Wraith Cooler, or an entirely new cooling solution made by AMD for this generation specifically. We will just have to wait and see.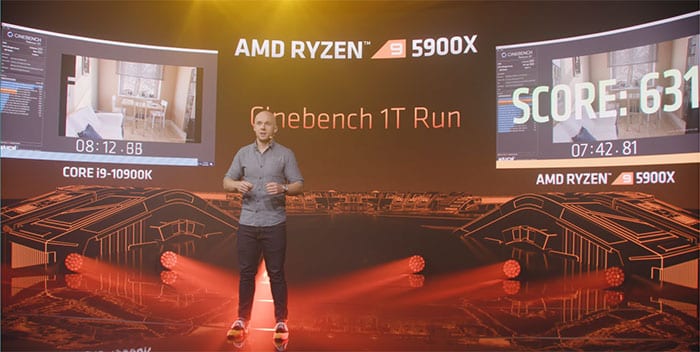 The Competition
For a long time, Intel has been definitely pulling ahead of AMD when it comes to CPU performance. However, since the release of the first Ryzen series, AMD has been slowly but surely narrowing that gap. While the 3000 Ryzen series was slightly better for workstation. Intel still had a better single-core performance with its latest I9 10900K model which made it the best gaming CPU on the market. The release of the Ryzen 5000 series appears to have debunked those claims. AMD is showing that both Ryzen 9 5900X and Ryzen 9 5950X appear to be significantly pulling ahead of the Intel I9 10900K when it comes to performance. Officially making AMD the king of CPUs.
This newly achieved fame may be short-term! Intel has announced that their new 11th Gen Rocket Lake CPUs will be released sometime in early 2023. While we don't have too many performance benchmarks available for Ryzen 5000 series. We also don't know a lot about the 11th Gen Intel series. One thing is for sure, the competition will be fierce which is always good for the customers in terms of price.
Video Game Performance
Performance in video games is perhaps the most important aspect when it comes to CPUs. It is crucial to claiming the title of being "The Best" on the market. During the AMD live presentation, they have shown a chart that depicts their Ryzen 9 5900X CPU outperforming Intel I9 10900K in numerous video game titles. Popular titles such as Dota 2, League of Legends, and most importantly Shadow of the Tomb Raider which is a very component taxing title. One thing worth noting is that the Intel's CPU outperformed the 5900X in Battlefield V. Since we have no third-party benchmarks to compare this information, all of these numbers should be taken with a pinch of salt.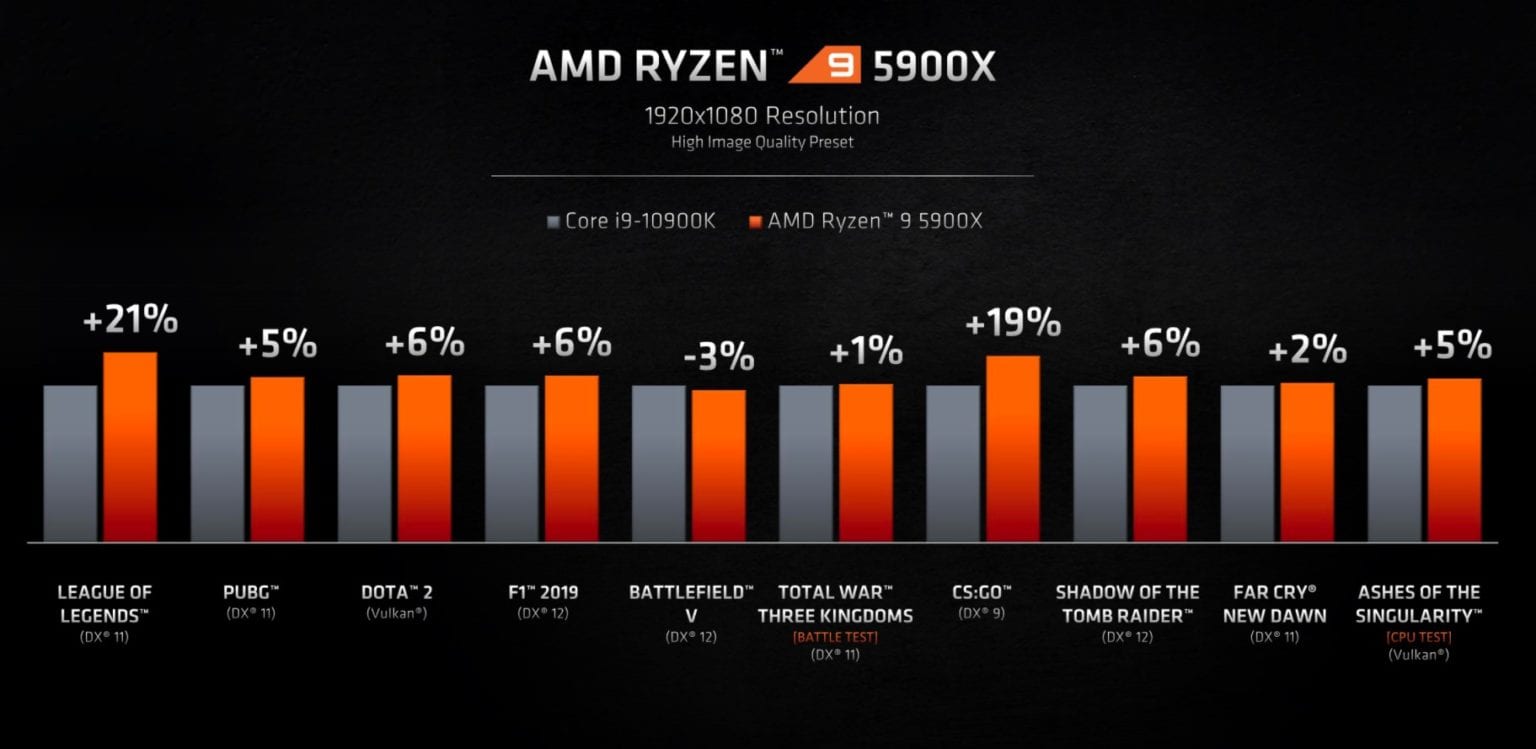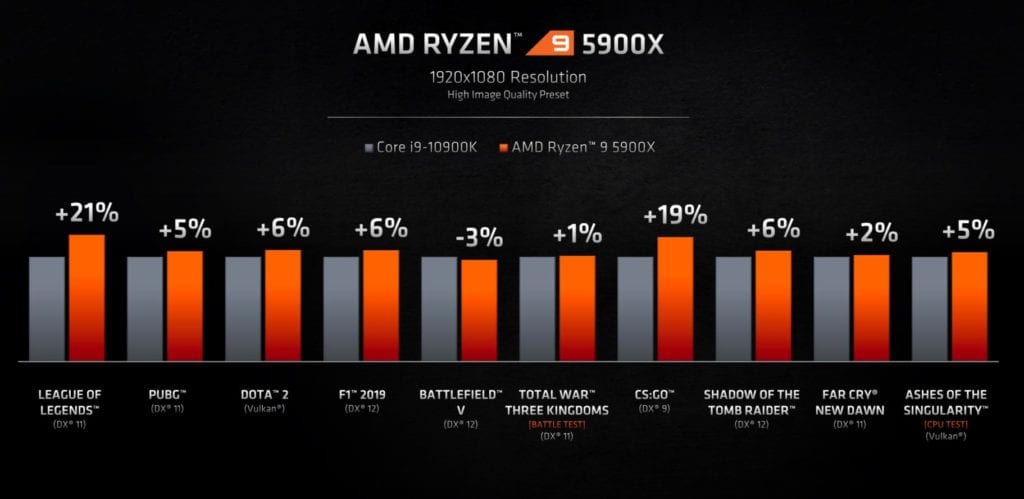 Ryzen 5000 Pricing
When it comes to prices! The new Zen 3 generation of processors, the weakest announced CPU in terms of performance, AMD Ryzen 5 5600X will be priced at $299. The next in line which is AMD Ryzen 7 5800X will cost $449, the Ryzen 9 5900X $549. While the best performing AND Ryzen 9 5950X will set you back $799. As mentioned above, we are expecting quite a few more CPU models that will fall somewhere in between. Looking at the prices, we were able to spot a pattern. Each model of the Ryzen 5000 series is roughly $50 more expensive than its predecessor from the Ryzen 3000 series.
Ryzen 5000 Series Availability
During the presentation, they announced the release of the new processor. The new series of the AMD processors will be available worldwide from November 5th. This is somewhat strange, considering that we will have to wait almost a full month after to get our hands on them. A possible reason for this might be the fact that the recent release of Nvidia 30 Series GPUs didn't go as planned. Many customers weren't able to purchase a card so it changed things a little, to say the least. To make things worse! Scalpers on eBay and similar websites were snatching all the available cards and selling them at ridiculously high prices. The new PlayStation had a similar availability issue, unfortunately. AMD might be giving themselves enough time in order to avoid this kind of situation.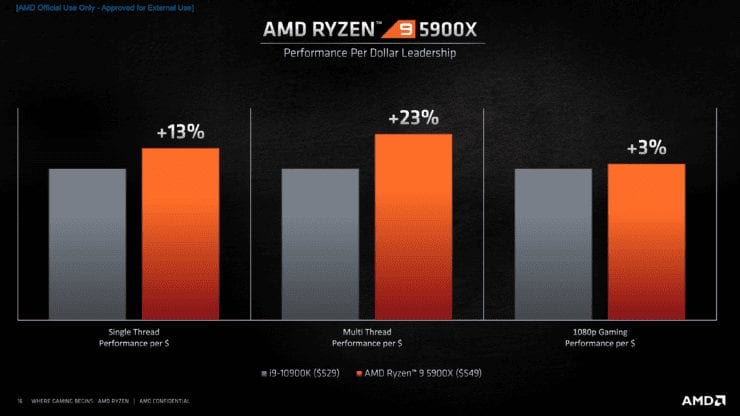 Additional Information
At the very end of the presentation, AMD decided to release small bits of information. This was regarding the release of their upcoming 6000 series of graphic cards. The new GPU lineup is supposed to be competing with the Nvidia 30 series in terms of performance. During the presentation, AMD released some footage of their AMD Radeon RX 6900 XT showing gameplay footage of Borderlands 3. The demo was in 4K resolution at higher than 60 frames per second. So far this is the only official information that we have on the new GPU series. In order to know more, we will have to wait for the official announcement on October 28th.
Conclusion
From the information that we have, we can see that AMD has been going strong in the last couple of years. It also looks like they have no intention of stopping. It is clear that AMD has been working very hard to get to the top. Their latest line of products speaks for themselves. Whether they stay on top or not, one thing is certain, this year has been very exciting for AMD. It is even more exciting for PC and Tech enthusiasts.