Fnatic Team Spotlight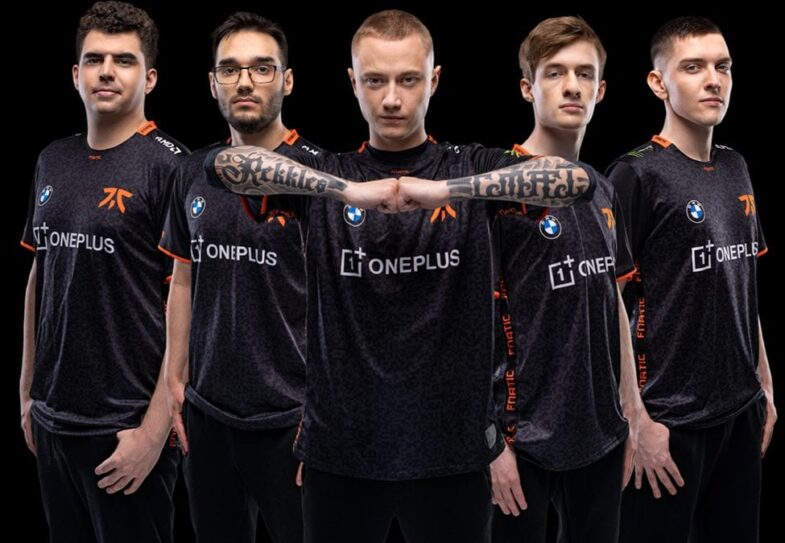 In League of Legends, there is no more popular team than Fnatic. The name is rooted deeply in the game's history, and it's right there among the World Championship winners. Fnatic has also won numerous EU LCS Summer and EU LCS Spring splits, and are actually the second team in Europe with most crowns, right beside G2 Esports.
But, the Fnatic organization has broken records and won championships in many other games too, including CS:GO, Dota 2, and Fortnite. Yet, in League of Legends, their legacy echoes as hard as that of SK Telecom T1. And most of it is due to their early LoL team, who managed to dominate the initial stages of the EU LCS and to win the hearts of millions of fans.
Let's dive deeper into the United Kingdom's best esports organization – Fnatic, and check their historic origin!
Fnatic at the LoL World Championship Season 1 and IEM Season VI and Season VII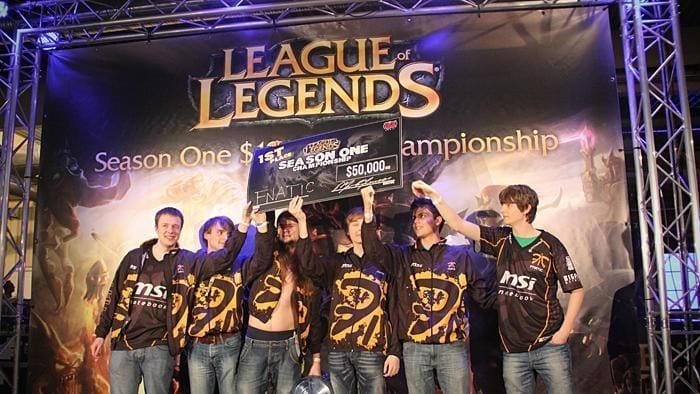 Fnatic has been around as early as the start of League of Legends. They entered the professional scene in March 2011 and quickly found success. However, the team won't be completed until later that year, when Fnatic's starting roster would look like this: Cyanide, xPeke, ShuShei, LamiaZealot, and Mellisan. And in the days when there was no EU LCS, these five veteran stars brought chaos wherever they played.
That proved to be true at the first League of Legends World Championship as well. The event was held in Jönköping, Sweden, and it marked the birth of the LoL esports scene. There, Fnatic smurfed the group stage and the rest of the tournament with ease, winning it and becoming the first-ever League of Legends World Champions. After that, they were feared worldwide, and it will be two years later when SK Telecom T1 will enter the spotlight and Fnatic's name will be put in shade for the first time too.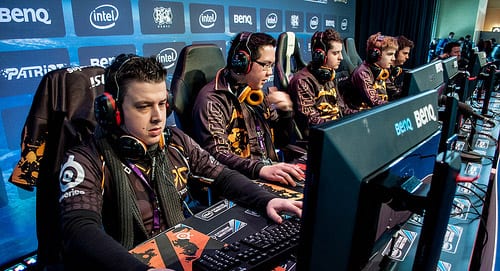 But before that, Fnatic did one more extraordinary thing. In 2012, the IEM Season VI tournament happened in Cologne and Fnatic were one of the most serious challengers for the title. They certainly were the most popular name that came out of Europe, right beside SK Gaming. And although Fnatic didn't manage to win the IEM Season VI tournament, their desire to improve will only grow bigger!
The next year, during the IEM Season VII tournament in Katowice, Poland, Fnatic, and SK Gaming were again the center of the attention. None of them succeeded in making it to the Finals, but they played one hell of a game! That was the game of the famous xPeke's Kassadin backdoor, which is regarded by many to be the most iconic moment in the history of esports, not only League of Legends! Thanks to xPeke's genius, Fnatic managed to win against SK Gaming and later to secure the 3rd spot in IEM Season VII tournament.
Fnatic in Season 3 through Season 10
And while SK Gaming never really caught up with their momentum again, Fnatic went off to dominate the EU LCS in the next seasons. In season 3, for example, they won both the EU LCS Spring and EU LCS Summer split, setting themselves as the best team in Europe. In season 5, they again won the two splits and continued to show excellent performance, year after year.
From 2016 and season 6, G2 Esports took the "best team in Europe" mantle. Fnatic struggled to compete with the new force in the EU LCS, and always finished the splits around the 3rd spot. However, this would only last until season 8.
In 2018, Fnatic had a truly fearsome roster. With sOAZ in the top lane, Broxah in the jungle, Caps in the middle, Rekkles as their ADC, and Hylissang as the starting support, Fnatic were unbeatable. They crushed the Summer and the Spring split and qualified for the season 8 World Championship. At that event, this group of players was so strong that they only lost against one team – Invictus Gaming. Fnatic lost 0-3 to IG in the Finals of Worlds 2018, and never looked that strong until Worlds 2023!
In fact, many say that Fnatic's squad in season 10 is better than never! The starting roster is Bwipo, Selfmade, Nemesis, Rekkles, and Hyllissang. The group has an excellent synergy together, great macro play, and incredible individual talent! And despite being the second-best team in Europe in 2023, right behind G2 Esports, Fnatic crushed the group stage of Worlds 2023! Their gameplay never had a shaky moment and if history were to repeat itself, now is the right time for it!
Let's check each player of Fnatic's line-up and see who they are!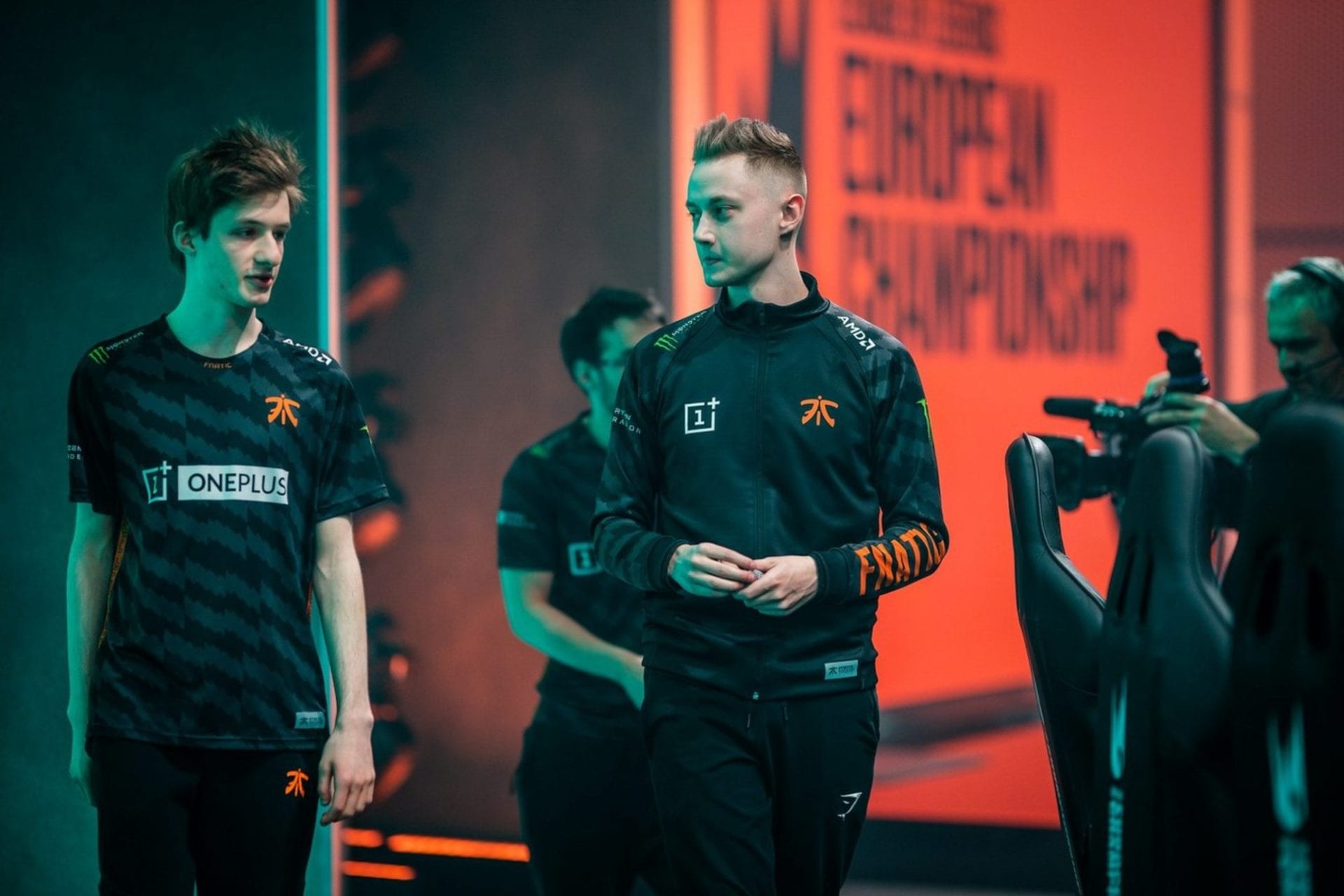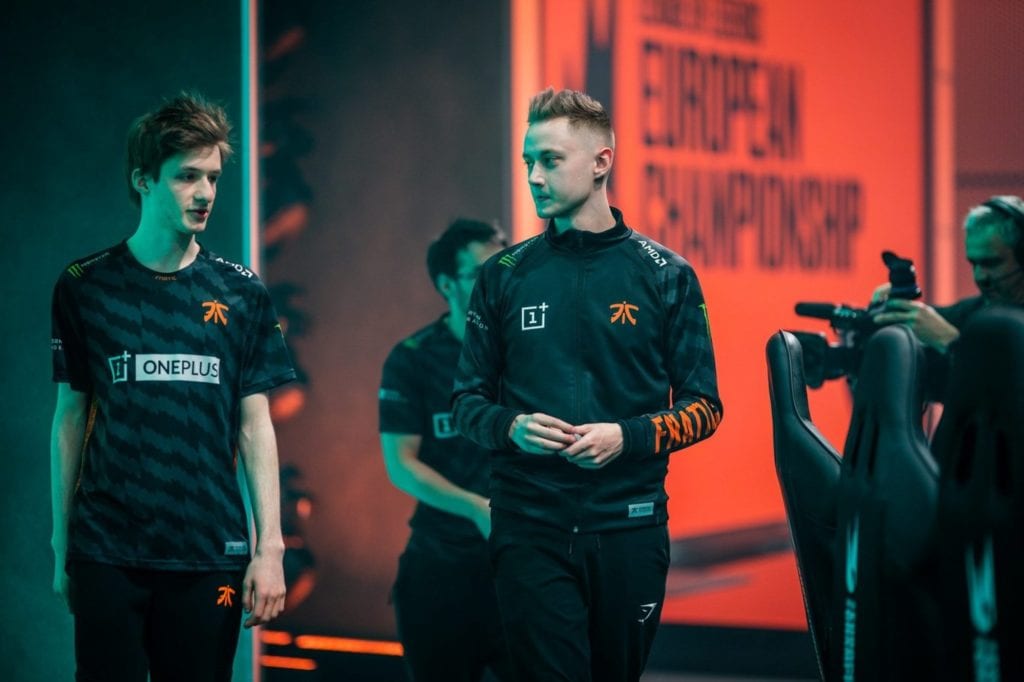 Fnatic Roster Players
Top: Bwipo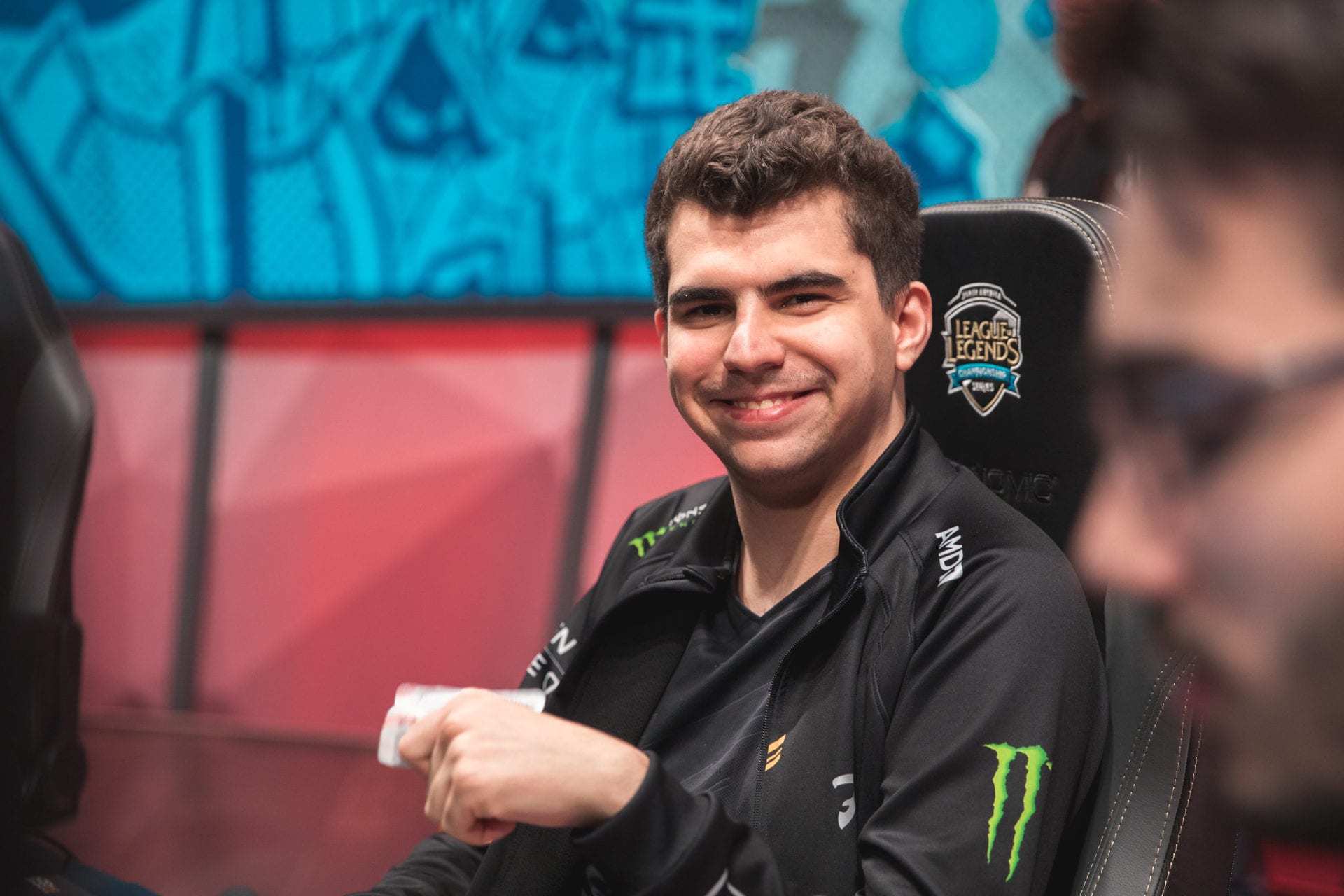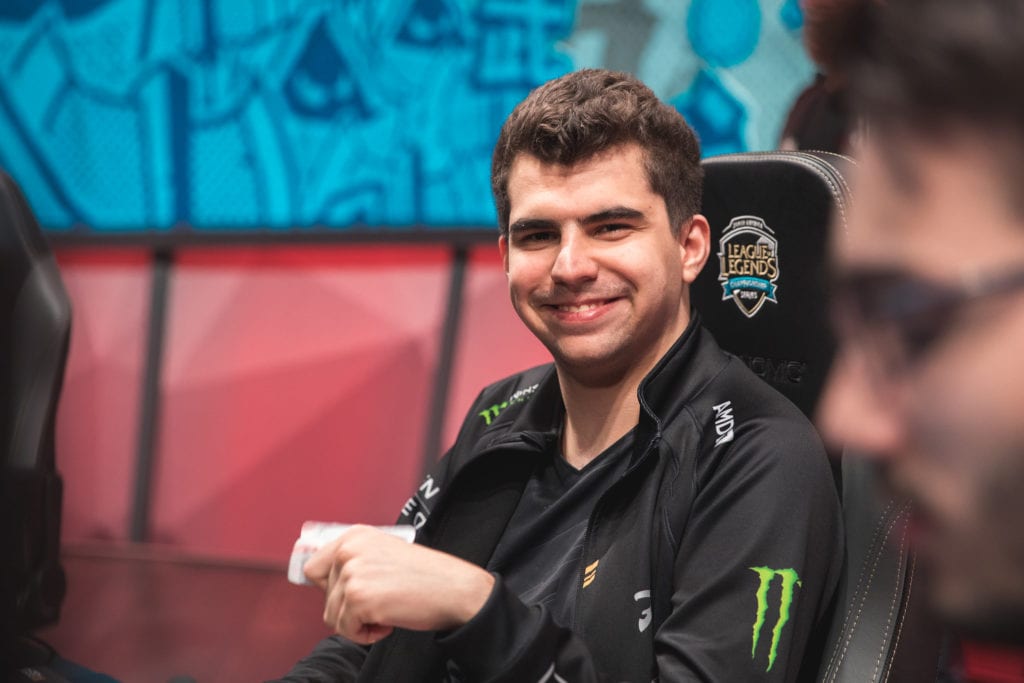 Gabriël "Bwipo" Rau started his professional League of Legends career in season 5. From 2015 to 2017 he switched between many small and amateur LoL organizations, and ultimately ended up in Fnatic in 2018. At first, he was a substitute top laner while sOAZ was still around but quickly moved to the starting position. That year, he received the "Esports PC Rookie of the Year" award for his great performance in the LEC.
Bwipo is a very unique top laner! His role is usually considered as a passive one, where nothing except turret dives happen. Yet, Bwipo refuses to play this sort of game and instead often trades aggressively with his opponent. As a character, he is very energetic and passionate about the game, and that also shows in his gameplay. He's got a big emotional drive and he is always willing to start a fight!
In Fnatic, Bwipo can oftentimes be put into a supportive role in order to enable Rekkles and Selfmade to do most of the work, but he can carry as well as them! At Worlds 2023, he outplayed TSM's Spica and Broken Blade with his Volibear in the group stage. He turned the 2v1 gank in his favor and showed just what he can do as a top laner on an international stage!
Favorite Champions:
Pro Gear:
Jungle: Selfmade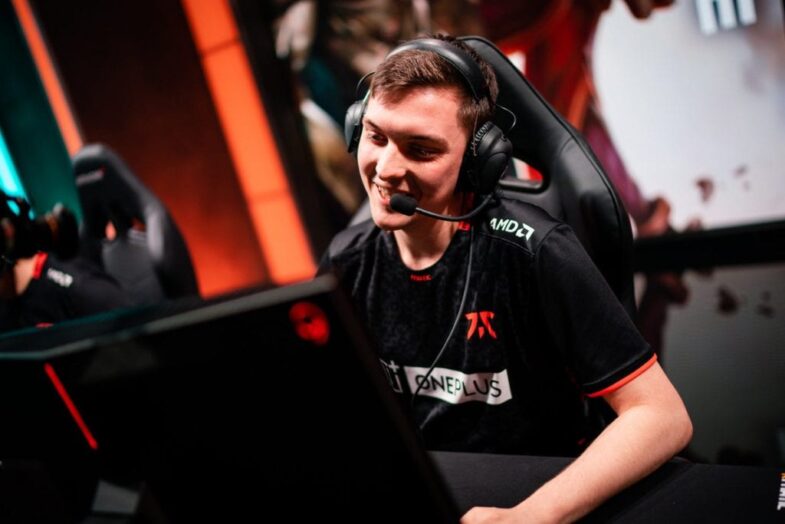 Oskar "Selfmade" Boderek has been a member of Fnatic since November 2019. He has helped the team resurface back to the top of the LEC and in 2023 he is regarded as the best European jungler! His stats certainly speak a lot for his name.
At the group stage of Worlds 2023, Selfmade was ahead in CS at the 15-minute mark in 83% of the games, with +256 gold and +412 XP difference over the enemy jungler. His kill participation stands at 70%, which speaks of how proactive he is, and his KDA at 5.1. He can go head-to-head with every jungler on the international stage, and still win the duel!
Selfmade became famous with his Evelynn games during the LEC Summer Split. Evelynn is his signature champion because of the masterful way he plays her, but he has some notable performances on Gragas, Skarner, and Kha'Zix. On Gragas, Selfmade has a 71% win rate, on Skarner 88.9%, and on Kha'Zix 100%. Selfmade and Rekkles are the two biggest carries in Fnatic.
Favorite Champions:
Pro Gear:
Mid: Nemesis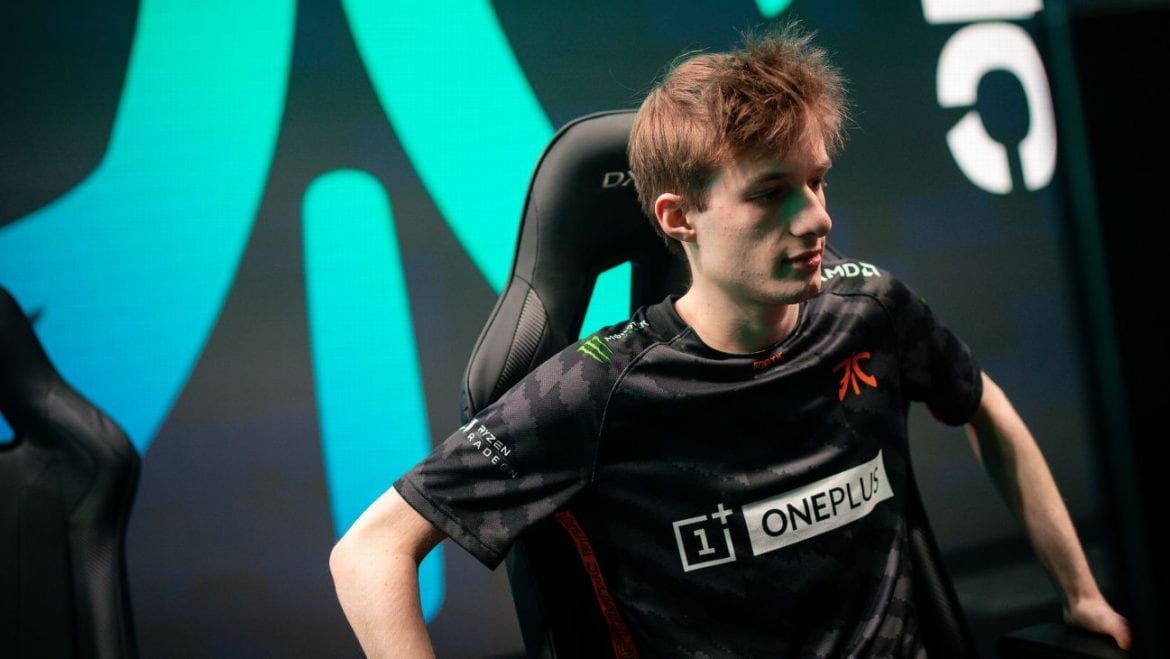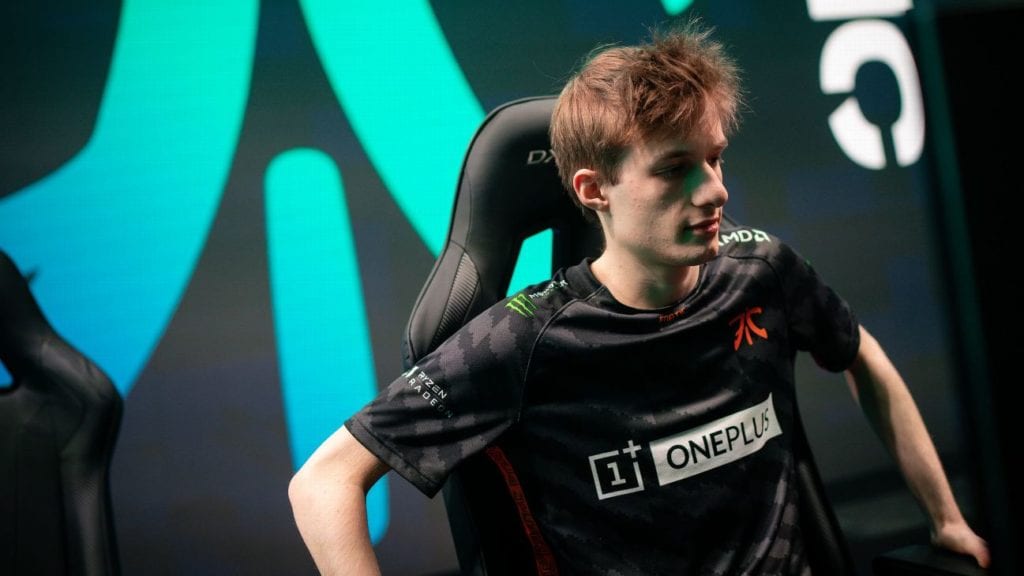 And Tim "Nemesis" Lipovšek isn't a stranger to the international League of Legends scene. He has been in Fnatic since late 2018 and appeared at Worlds 2019 as a starting mid laner for the team. In season 10, however, Nemesis has had some fantastic performances on many mid champions, including Orianna, Twisted Fate, and Lucian.
Nemesis plays the mid lane in a very classic way. He goes even in losing matchups and wins hard in favorable ones. In the mechanical department, Nemesis is known to have some pretty unbelievable outplays on champions like Cassiopeia, Ryze, and Kassadin. He loves to duel and to score 1v1 kills.
Cassiopeia is also his most successful champion professionally. Nemesis has played her in 13 games on stage and has a great win rate of 84.6%. Next in the line is Azir, with which Nemesis has an 81.3% win rate out of 16 games. These champions aren't really suited for the current meta, but that's why Nemesis has unleashed Orianna at Worlds 2023. He has played her in 3 games in the tournament so far and has won them all with a KDA of 11.3. With the right champion in is his hands, Nemesis can carry every game for Fnatic!
Favorite Champions:
Pro Gear:
Bot: Rekkles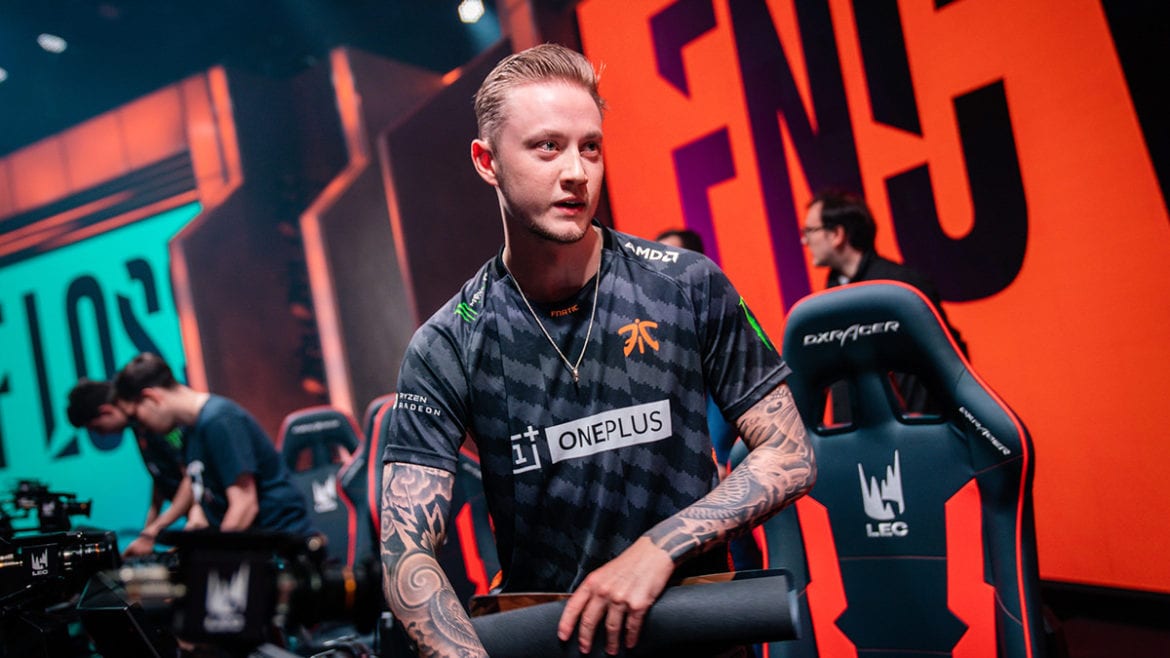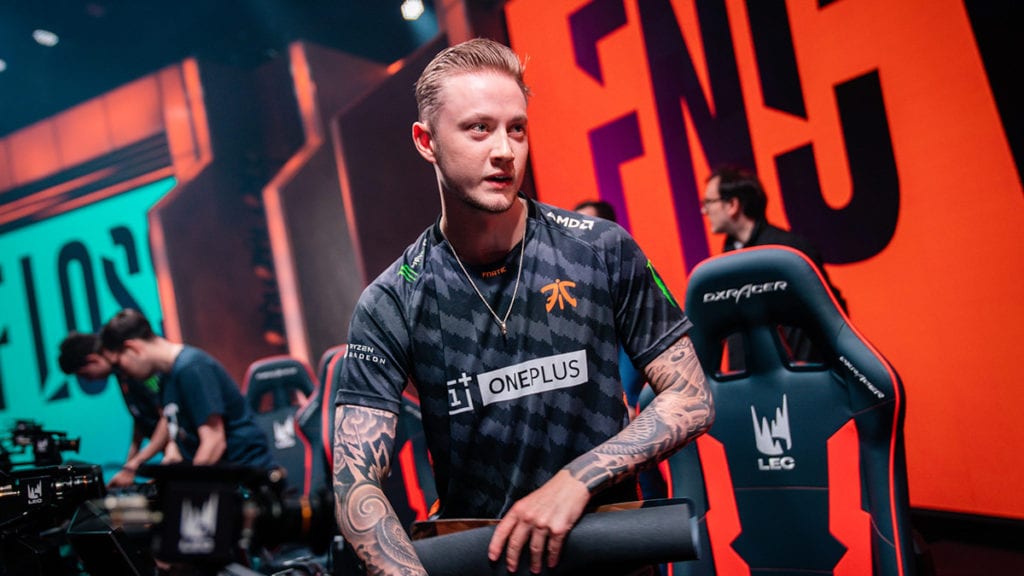 Martin "Rekkles" Larsson has been in Fnatic the longest. He initially joined the team in 2012 but made his debut during the season 3 EU LCS. Rekkles has also switched teams a few times through the years, but since 2015 he has been inseparable from Fnatic. And if you begin to analyze each game of Fnatic and how they have claimed the victory, the reason is almost always Rekkles!
Rekkles is an extremely respected name in the whole world. Players and analysts from China and Korea have always considered him the best AD carry from the western regions. Rekkles has certainly proved that at Worlds every year, and in soloqueue too. Throughout his career, Rekkles have claimed many notable achievements, including being the first person to get 1500 kills in the LEC. He became a fan-favorite when he started playing Kennen in the bot lane, but he is also famous for playing Tristana, Vayne, Sivir.
Rekkles is without a doubt in the top 3 best ADC players at Worlds 2023. His KDA there is 7.3 with great overall performance. He is known to rarely die more than once per game or to make a big mistake that could result in him losing the game. Instead, he often picks up the mistakes of his teammates and carries them to victory. Rekkles is all Fnatic and Fnatic is all Rekkles!
Favorite Champions:
Pro Gear:
Support: Hylissang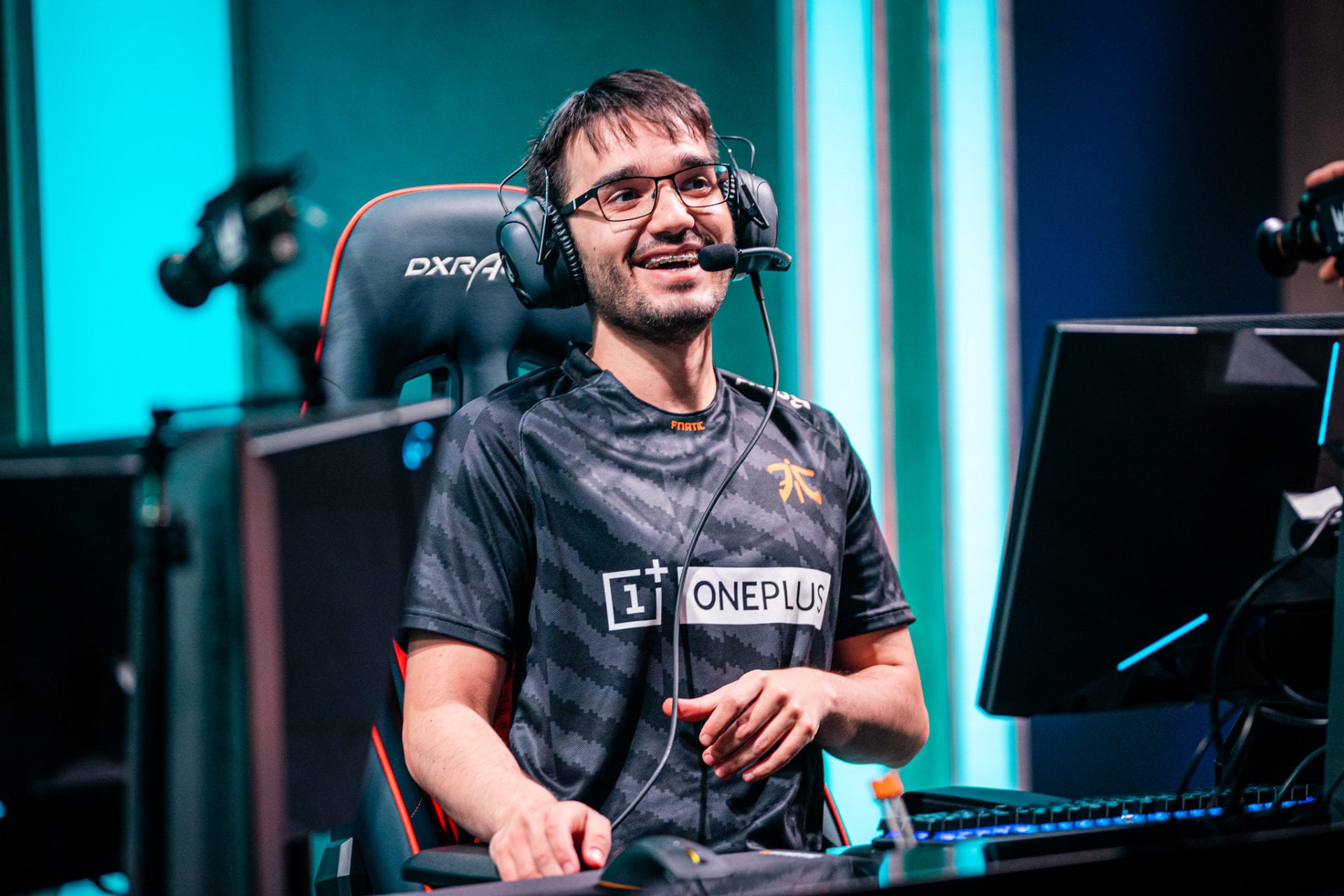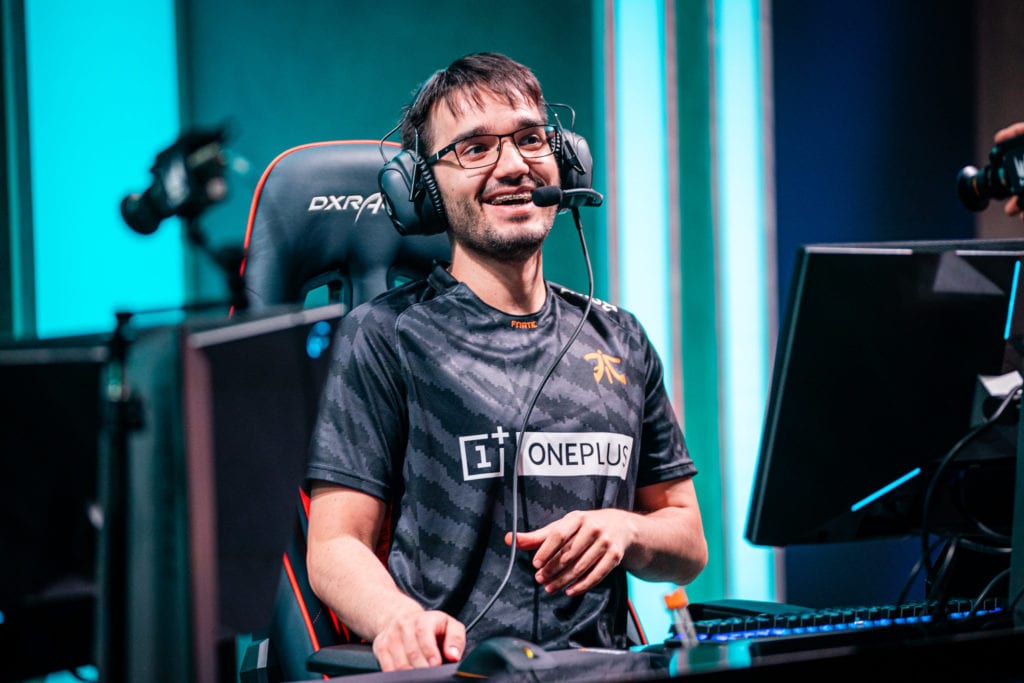 Zdravets "Hylissang" Iliev Galabov debuted on the League of Legends pro scene in the season 4 EU LCS Spring split for Unicorns of Love. He joined Fnatic in 2017 has been the standard support for the team ever since.
Hylissang has always had impressive stats in his role. Even at Worlds 2023, he is always ahead in gold and XP on all of his champions. His way of playing support is very intelligent. He knows when and how to ward areas for taking objectives and has great intuition for making plays around the map. Very often, he roams with Selfmade to set up kills for Nemesis or Bwipo.
Hyllisang's best performing champions have been Thresh, Braum, and Rakan. These are all great team fighting champions that can turn the tide of any battle in the favor of Fnatic. And that is precisely what Hylissang is best at!
Favorite Champions:
Pro Gear:
Final Thoughts: Can Fnatic Repeat History and Win Worlds 2023?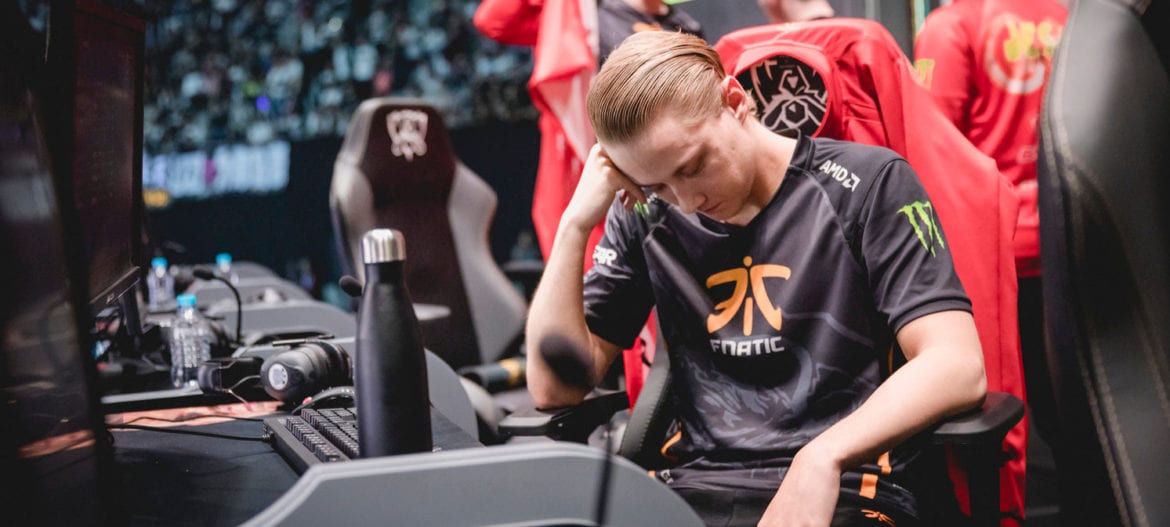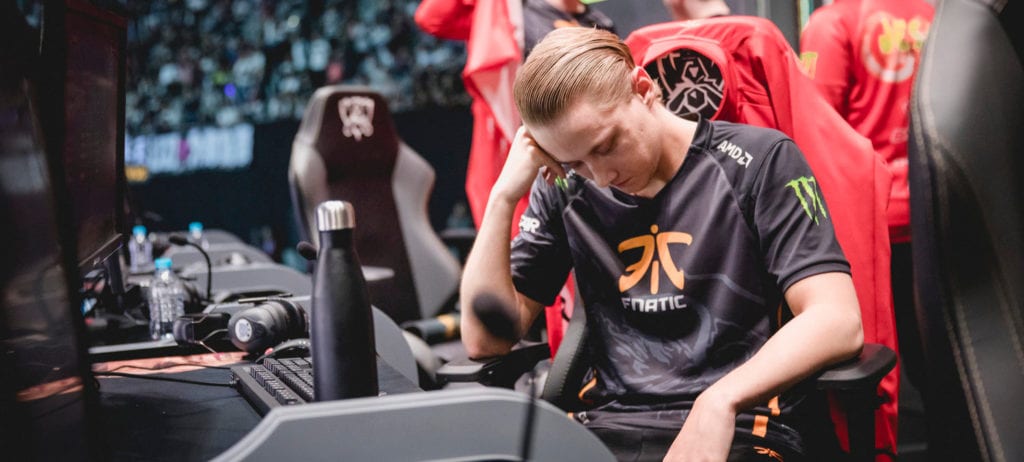 Fnatic had a steady performance in the group stage. Nemesis popped off in many games, and Bwipo too had some memorable plays. Selfmade has been an absolute madman in the jungle matchups, setting everything perfectly for Rekkles to carry forward. And yes, you can say that the group stage is just that – the group stage, but Fnatic played incredibly well against both the LPL and the LCK representatives.
They might not win with the difference of SK Telecom T1 in season 3, but then again, who does? They play versus Top Esports in the Quarterfinals and have probably the hardest best of 5 series in their careers. This is the roster that they have been building for years and if someone can succeed, then we believe it's them!
But what do you think? Can Fnatic Repeat the history and win another World Championship? Tell us in the comments!