Looking to fancy up your attire with some of the best CSGO gloves available on the market? Here's a deep dive into everything you need to know about CSGO gloves. Here is a list of the best ones to get right now.
Ever since the release of Counter-Strike: Global Offensive. Valve has been determined to turn the game into a community of itself. Although CSGO been a wildly popular franchise since the start. The introduction of a brand new trading platform in the form of weapon skins, brought it to a whole new level. In August 2013, Valve introduced an update that brought about weapon skins, sending shockwaves through the gaming community.
Unlocking CSGO weapon skins through consistent gameplay, trading your skins, and buying CSGO skins with real money has become a lucrative business in itself. We have extensively covered how valuable some of these rare CSGO skins are valued in thousands. As well as which ones you can grab for a bargain price if you know where to look.
What are CS:GO Gloves?
During an unexpected update in 2016. Valve introduced the CSGO community to a variety of CSGO glove skins through the "Glove Case" update. What initially started out with 24 different glove skins, has now evolved into a library of its own. Offering some of the most stylish and unique CSGO gloves you can find out there. Gloves in CSGO are essentially a part of the player's equipment and included as a default element of clothing.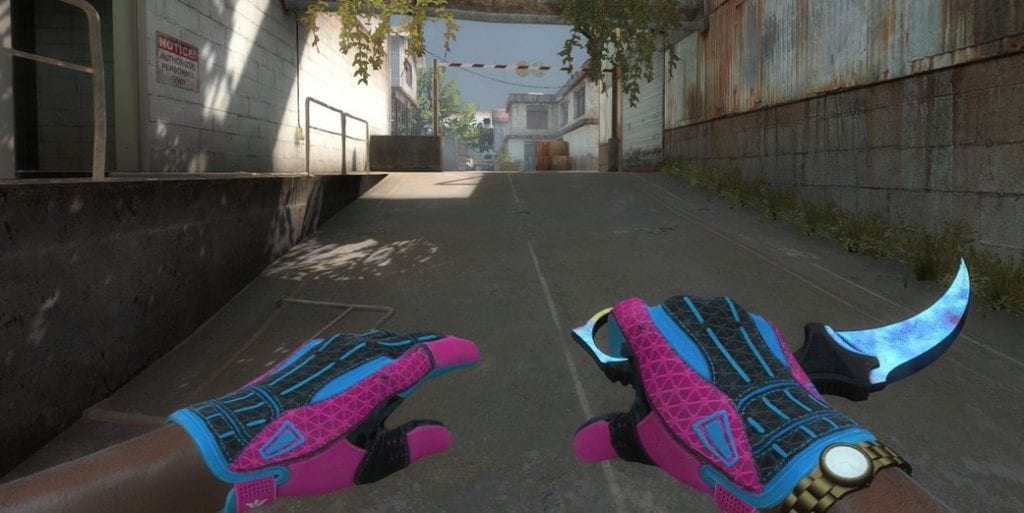 To maintain the balance and offer equal opportunity to each player, CSGO gloves are purely visual and do not improve the user's gameplay quality or attributes. CSGO gloves skins are visible to the player, as well as the third person in the game. Similar to weapon skins, CSGO gloves tend to have wear quality attached to them. Ultra-rare CSGO items indicated by stars next to the best CSGO gloves.
Bloodhound Gloves

Valve rolled out the set of 4 gloves with the Operation Bloodhound, with the official emblem encrusted on the fingerless gloves right at the center. Available in Snakebite, Bronzed, Guerilla, and Charred variants to choose from, the metal studs all around the knuckles gives it a rugged, yet fashionable look.
Hydra Gloves

The CSGO gloves set released during Operation Hydra, is another set of fingerless gloves, which is increasingly becoming popular among the CSGO community. The multiple heads of hydra have been turned into a metal emblem at the center of the gloves, which are available in the 4 variants of Mangrove, Rattler, Emerald, and Case Hardened design styles.
Driver Gloves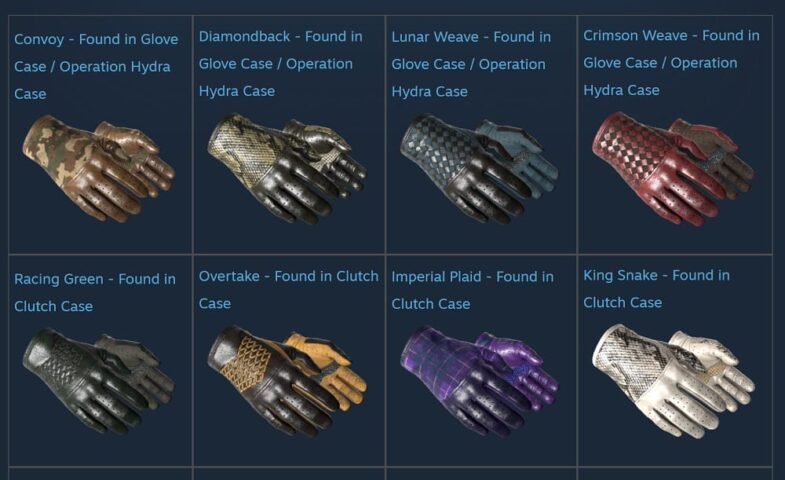 One of the earliest designs of gloves in CSGO that were released back in 2016, the Driver gloves are available in 12 different design and color variants. The gloves offer complete coverage to the hands while maintaining tactility necessary for hand-to-hand combat and rifling.
Hand Wraps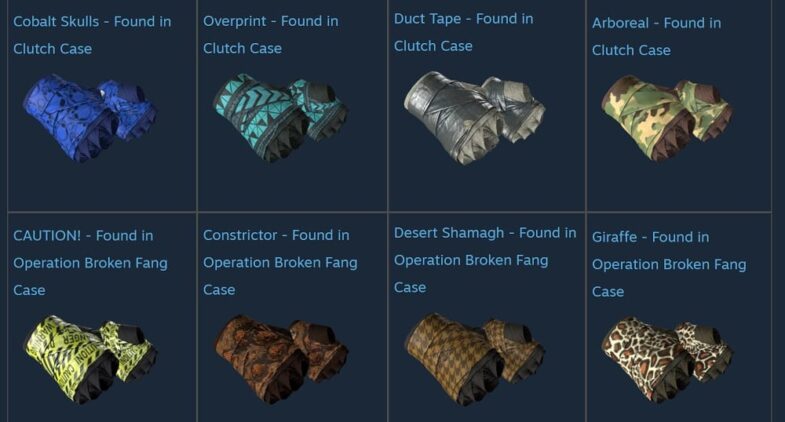 When going toe to toe with the enemy with a hand-on approach to the fight requires a bad-ass pair of hand wraps, leaving room for the fingers to remain tactile. Protecting the knuckles and stabilizing the wrists at the same time, the hand wraps are available in 12 differently unique variants.
Moto Gloves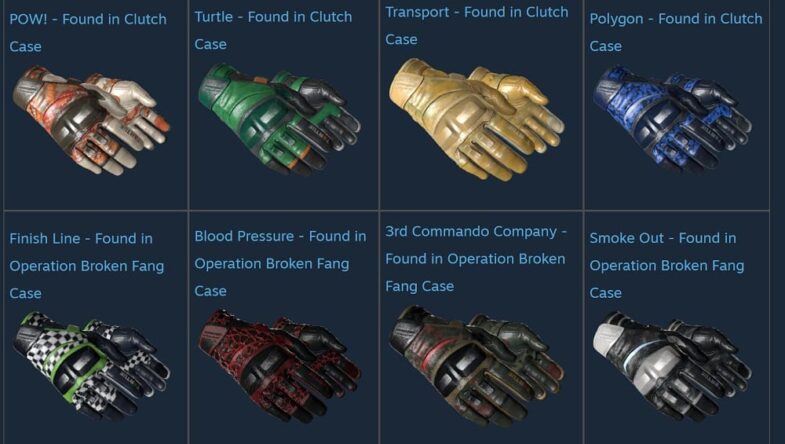 For those who live the high-speed life and are looking for CSGO IRL available out there too, Moto gloves and its 12 different designs are the right pick. From the stunning Spearmint color scheme to bloodied Blood Pressure design to rock during your next combat, these are meant to make enemies and your teammates envious.
Specialist Gloves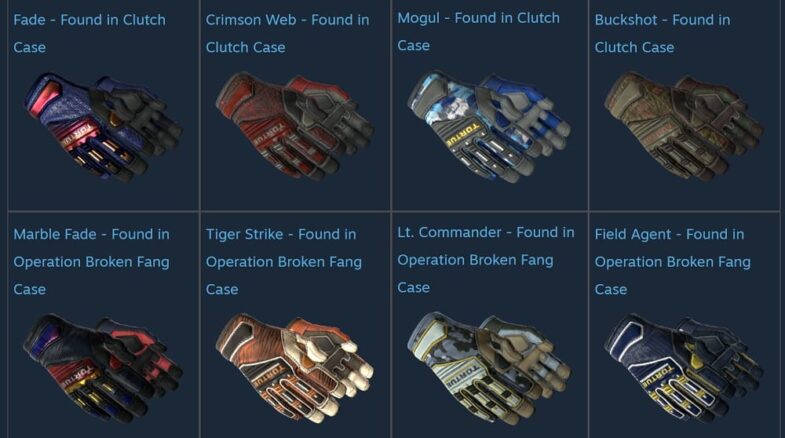 Combining the best of maneuverability, high-quality design, and breathable material, the Specialist gloves are also available in 12 different variants. Padded around the wrist and fingers, this accessory is meant to last several rounds of battles that can take and give a hammering.
Sport Gloves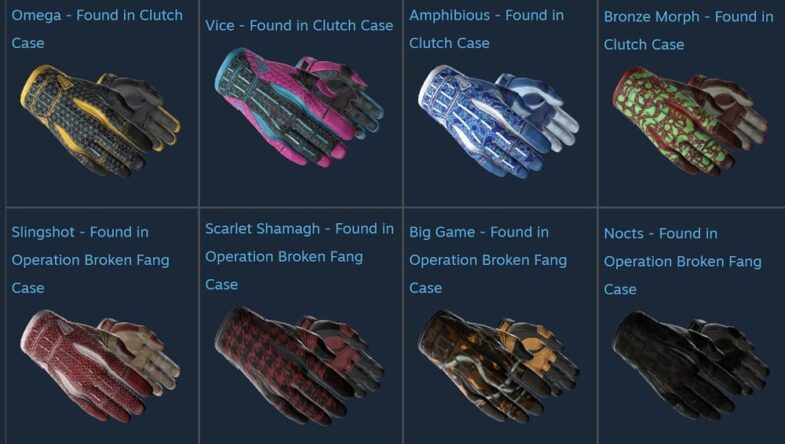 Built for the thrill and articulated with colors that pop out, Sports CSGO gloves are available in 12 color schemes. From the slender and black skins of Nocts, to the fashionable Vice skin that stands out of the crowd, these athletic gloves are a crowd favorite.
Broken Fang Gloves

Operation Broken Fang gave Valve another opportunity to stir up the pot and get CS GO gloves skins lovers something extra to be hyped about. The metal studs all over the fingerless gloves are aesthetically similar to the ones released in version Operation updates, with the significant change of the serpent emblem attached to the back.
Best CSGO Gloves to Buy Right Now
A virtual currency of sorts in the game, CSGO gloves skins have become a medal of honor for premium players. This allows them to showcase their skills and gain some street cred. Whether you're tired of looking at the boring default gloves that the game offers, or want to join the ranks of cool people with some limited-edition merch, here are some of the most sought-after CSGO gloves skins to check out:
Sport Gloves – Superconductor (Price: $400 – $1500)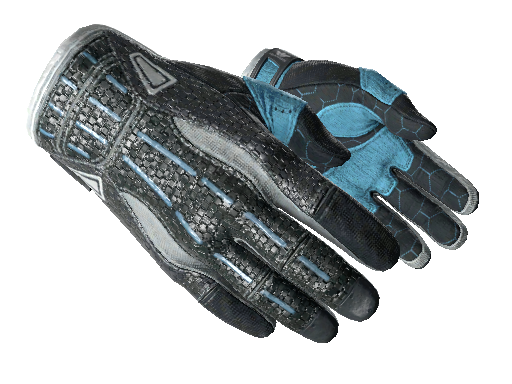 These stylish gloves are designed with a honeycomb electric blue pattern inside. Along with padded blue and black colors make this CSGO glove a worthy pick.
Driver Gloves – King Snake (Price: $300 – $1900)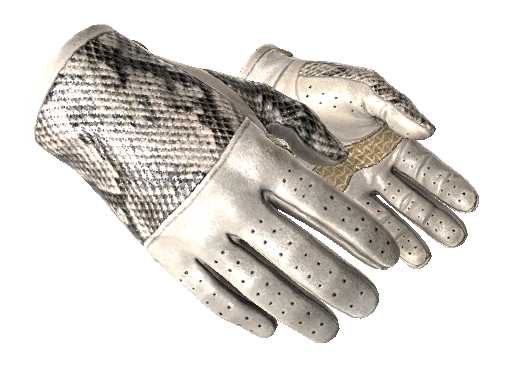 Feel the heat of the desert sand during combat with the snakeskin driver CSGO gloves. They offer complete coverage and perforated fingers for breathability.
Specialist Gloves – Crimson Kimono (Price: $500 – $1000)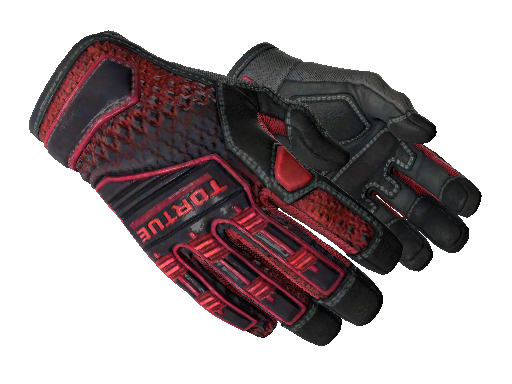 Combining the best of tactility and style, in the evergreen combination of black and red colors. You get complete wrist support along with padded fingers on the Crimson Kimono Specialist premium gloves.
Hydra Gloves – Case Hardened (Price: $180 – $800)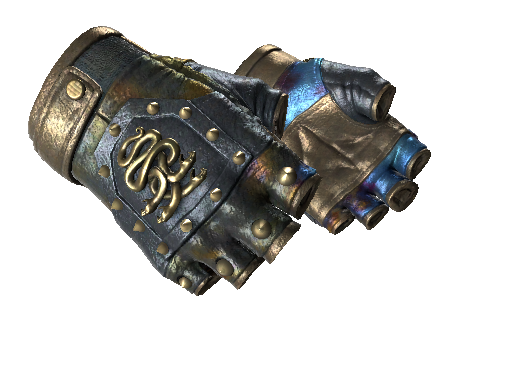 The fingerless gloves pair is a rare commodity on the trading market. Apart from the iconic design and multi-headed Hydra on it, what makes these best CSGO gloves unique, is the shaded effect on the inside.
Moto Gloves – Spearmint (Price: $300 – $1100)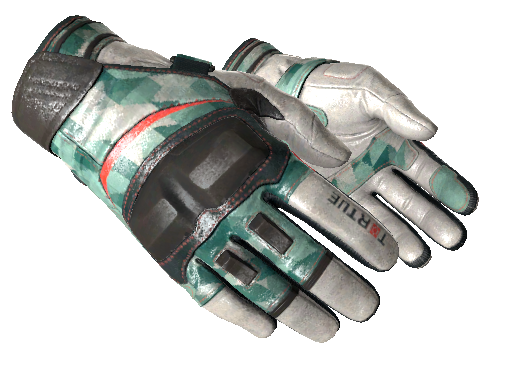 A refreshing color to pick up for a high-flying action game! The Spearmint gloves come with padded knuckles for extra cushioning and a geometric design that adds to the glory of the accessory.
Hand Wraps – Constrictor (Price: $160 – $1800)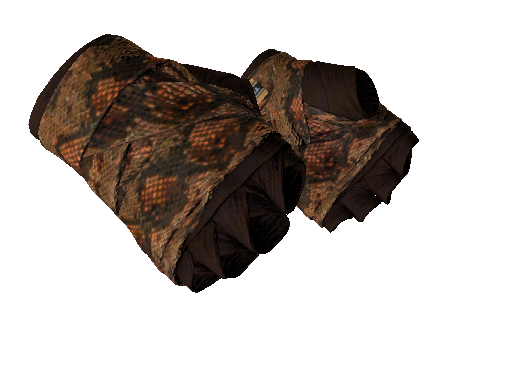 For those hardcore fighters that take on the turf war with nothing other than what nature has to offer. These Constrictor hand wraps are just the thing to protect your hands during the fight.
Specialist Gloves – Field Agent (Price: $200 – $1200)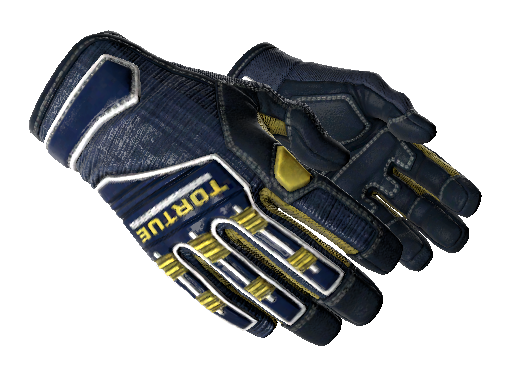 The stunning combination of yellow and navy blue looks sporty enough for any Counter-Terrorist force to adorn! It also offers plenty of padding all alongside the fingers and a corporeal grip inward.
Broken Fang Gloves – Jade (Price: $260 – $1050)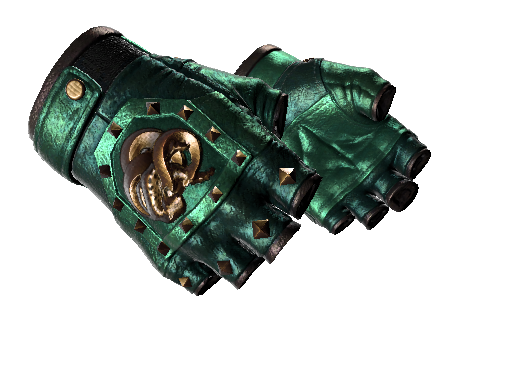 The coiled-up serpent at the epicenter with its bronze gold shine will make heads turn. The sea-green eye-catching color of these fingerless gloves will make even your teammates drool with envy.
Sport Gloves – Vice (Price: $740 – $3300)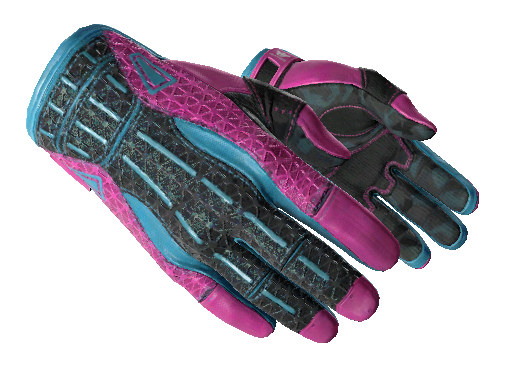 One of the best CSGO gloves that Valve has offered to date. The Vice Sport gloves combine an athletic appeal with a modern color combination. The isometric design pattern looks good when wielding a knife, the padded camo inline will look good when pulling that trigger.
Specialist Gloves – Fade (Price: $220 – $1300)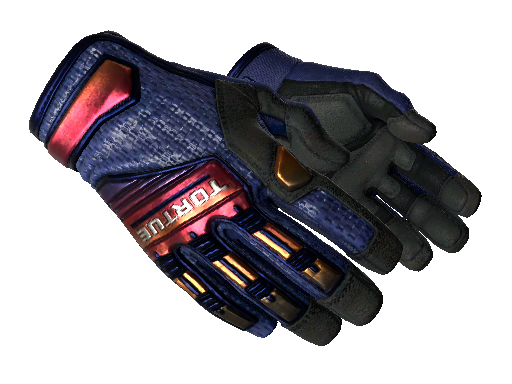 Combining the effect of the rising Sun through the crimson effect on the knuckle pad, along with a black inline that offers a grippy texture, these popular Specialist gloves are a sight to behold.
Final Words
Whether or not you should spend money buying the best CSGO gloves is a question that cannot be answered unanimously. If you have money to spend and want to rock the coolest attire during combat through a particular CSGO gloves model, then go for it. However, if you're going to looking at buying the best CSGO gloves as an investment, you will have to wait for CS GO gloves skins rise in price at a slow pace. In some cases, buying the cheapest CSGO gloves means they can be worth significantly more after a few years.
Which of these top CS: GO skins are you looking to get your hands on, or are you just planning to trade them around for profit? Do let us know in the comments section down below.