CS GO is one of the most rewarding competitive shooters to get into. The game has a high skill ceiling and there is a lot for players to delve into, like perfecting mechanics or using the ultimate crosshair. Like most games these days though, there are a lot of different skins available and CS GO rarest skins help to set you apart from other players. These are a way to customize the way that you look, but they're also a bit of a status symbol. There are more than a thousand skins in the game, so those that are rare have become pretty expensive, whether you are looking to buy, sell, or trade. These are the rarest skins in CS GO, and how you can find them.
CS GO Rarest Skins
These are the CS GO rarest skins at the moment. Although, it's worth noting that we're consolidating them a little! The slight variations on the top 3 would probably fill the list if not!
8. StatTrak Gamma Doppler Emerald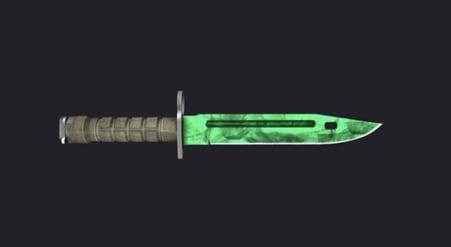 What's it Worth? – $8,329
How Do You Get It? – Gamma Case
The StatTrak Gamma Doppler in Emerald has been one of the most sought after blade skins. There are a few different weapons for this skin, but the Karambit knife is the rarest. This sold for up to $8,000 in the right condition. The Gamma Doppler in Emerald takes up a good portion of most of the most valuable skins list, but this is the most valuable out of the different ones around.
7. Sports Gloves – Vice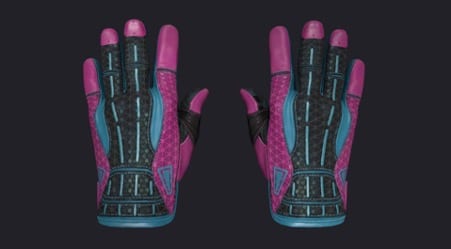 What's it Worth? – $9,004
How Do You Get It? – Clutch Case
This set of sports gloves are a little more interesting than the norm, with a few different colors and patterns going on. They came from the Clutch Case and have been pretty rare since.
6. Sports Gloves – Pandora's Box
What's it Worth? – $9,446.44
How Do You Get It? – Gloves Case and Operation Hydra Case
Think gloves are an unimportant part of the game? Even the gloves can be some of the rarest CS GO skins.  These Sports Gloves are some of the more expensive ones in the game, selling for $8,500. They're essentially just slightly purple gloves, but also some of the rarest CS GO skins.
5. AK-47 Case Hardened Blue Gem
What's it Worth? – $10,459
How Do You Get It? – Weapons Case
The AK-47 is an important weapon in a lot of shooters, like Call of Duty. The weapon is one of the most notable in the entire genre, so it is quite fitting that this particular one of the rarest CS GO skins is worth so much. This Factory New version of a Blue AK-47 has been one of the highest-selling skins. It was accessible from a Weapons crate, but in the perfect state here it is pretty rare. Ones with a slightly different pattern aren't worth as much though.
4.  M4A4 Howl
What's it Worth? – $11,992
How Do You Get It? – No Longer Available
The M4A4 Howl is one of the more distinctive skins on this list, but it also has one of the most unique stories behind it. Valve got into some trouble after adding the skin. It turned out that they hadn't cleared it with the original artist, who served them a takedown notice. Valve obviously had to remove skin and replace it with different artwork.
This has meant the skin has been categorized as 'contraband' since it is now inaccessible to players. This is one of the rarest CS GO skins because of this.
3. StatTrak Gamma Doppler Sapphire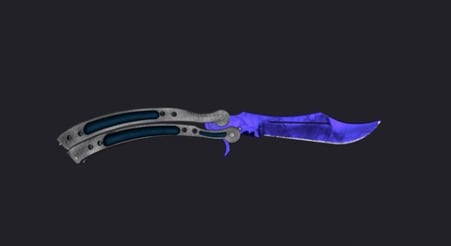 What's it Worth? – $13,051
How Do You Get It? – Spectrum Case
This Doppler version of the Sapphire Butterfly Knife has become really valuable, selling for up to $7,983.05. Other StatTrak Gamma Doppler skins have sold for quite a bit too, so it's worth mentioning that the entire pattern is some of the most valuable skins out there.
2. StatTrak Crimson Web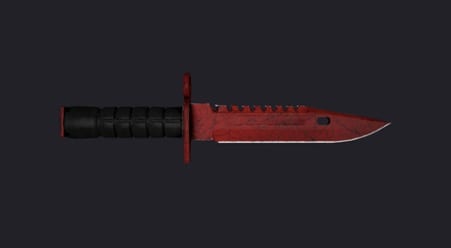 What's it Worth? – $14,852
How Do You Get It? – Weapons and Esports Case
The Crimson Web finish for CSGO knives has become the most expensive out there. The web pattern specifically is particularly unique, with a different web for each float. This one came from the Revolver case. The Crimson Web series are some of the most valuable skins for just about every variation on the market, but we're putting them all in together here. The most valuable is the M9 Bayonet.
Since the web pattern is different, a perfect one is worth quite a bit. There aren't that many of them in the game at all. This has made it one of the rarest. How do you go about getting it? Like anything else here the answer is essentially luck!
1. The Souvenir AWP Dragon Lore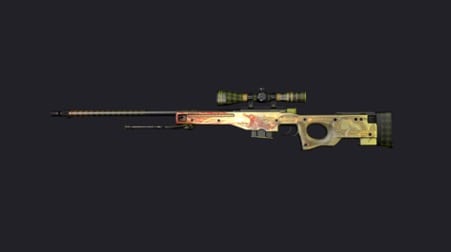 What's it Worth? – $19,632
How Do You Get It? – Cobblestone Case
The Dragon Lore Souvenir skin is the most valuable in the game at the moment. It was picked up by one player in the Cobblestone Case after a major tournament. It also dropped in Factory New condition, which has made it even rarer. This has sold for the highest amount out of all CS GO skins, owing to its ridiculously rare nature. So how do you get one of these? It is pretty unrealistic to actually find one.
The Souvenir Dragon Lore was an incredibly lucky find. When players worked out the probability of actually finding one, it came out at 0.0004%. So probably not realistic to get one yourself!
How to Get Valuable Skins in CS GO
As you can probably tell, skins are big business in CS GO. The trouble is in predicting which of them is going to be worth a lot going forward. There are some one-in-a-million drops, like those on this list. Although, there are also plenty of smaller skins, ones that you stand a chance of getting without breaking the bank! If you're looking to get rare items yourself before they become valuable, go for stickers. They might not be as eye-catching, but older event stickers becoming valuable is pretty predictable.
Those are some of the rarest and most valuable CS GO skins. It's worth keeping in mind though, that the skins you personally think look good are always better than just something of a status symbol. Sure, you can track down an insanely expensive skin for the sake of showing off how much you've dropped in the game, or you could impress players with your skill at the game!