Looking for a gaming keypad to take your gaming setup to the next level? We've made just the guide for the best gaming keypad for you.
Getting into the high-end gaming space or pro leagues of the competitive gaming community isn't easy. The primary reason that all pro gamers/streamers excel at their playstyle is through gears that they're accurate and comfortable with. The most crucial aspect for any professional gamer while gaming is the experience and comfort of using the best keyboard and mouse.
However, a critical factor that differentiates the average Joe and a pro is that they consider all the hotkeys that the game might need or use. A keypad that could help anyone outperform other competitors is a good gaming keypad by mapping different keystrokes to easily accessible keys, allowing faster activation or response times.
Note: Most of these gamepads are great for pro gaming and streaming but could also be programmed for uses like video editing functions, and all of them are connected using a USB cable and can't be used wirelessly.
Scouting the market for a good keypad can take a lot of time, time that could've been used to improve accuracy or getting experience. Hence, we've compiled a list for you so you can get your groove on as soon as possible.
Gaming Keypads
While the Stream Deck was supposed to be the best streaming and video editing macro board, most people recognized this compact keypad's importance for gaming and streaming. With three rows of 5 keys, each the Stream deck provides 15 programmable OLED keys that work like a charm and provide excellent function in any application you use it for. The keys themselves can display a 72×72 image, making it very customizable and increasing its effectiveness.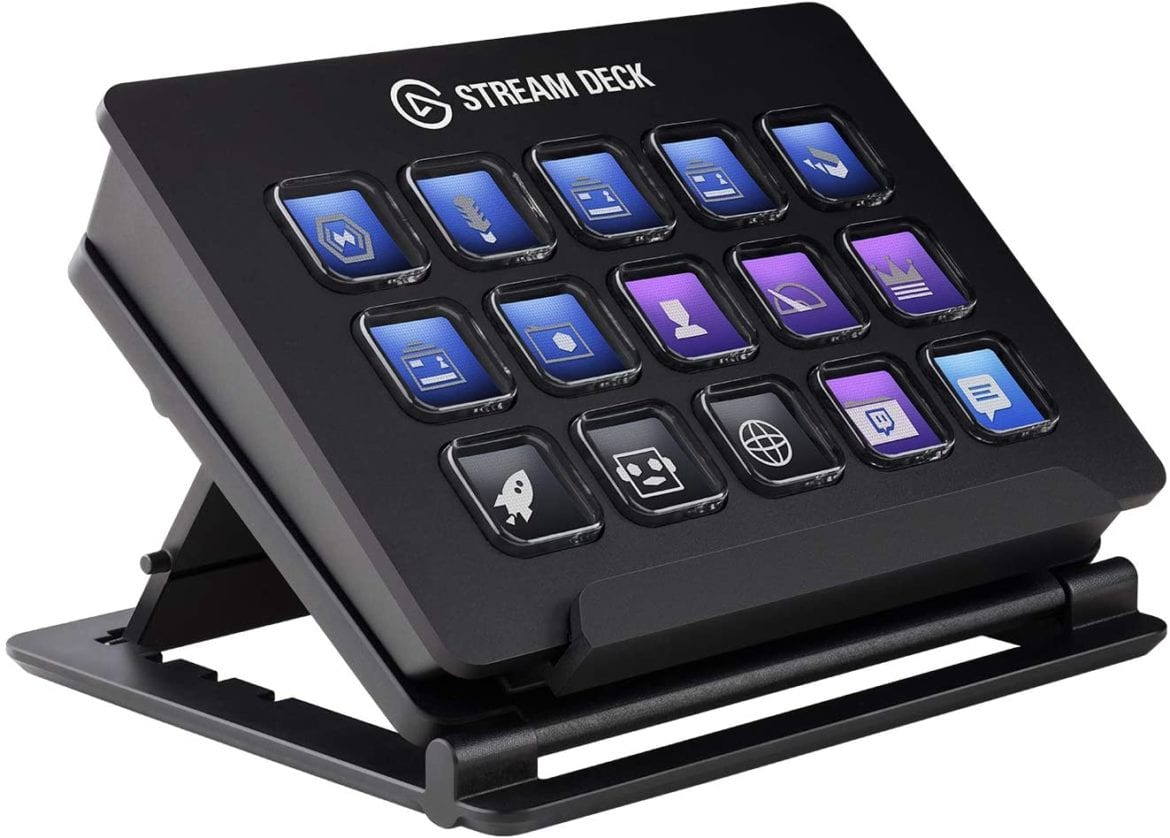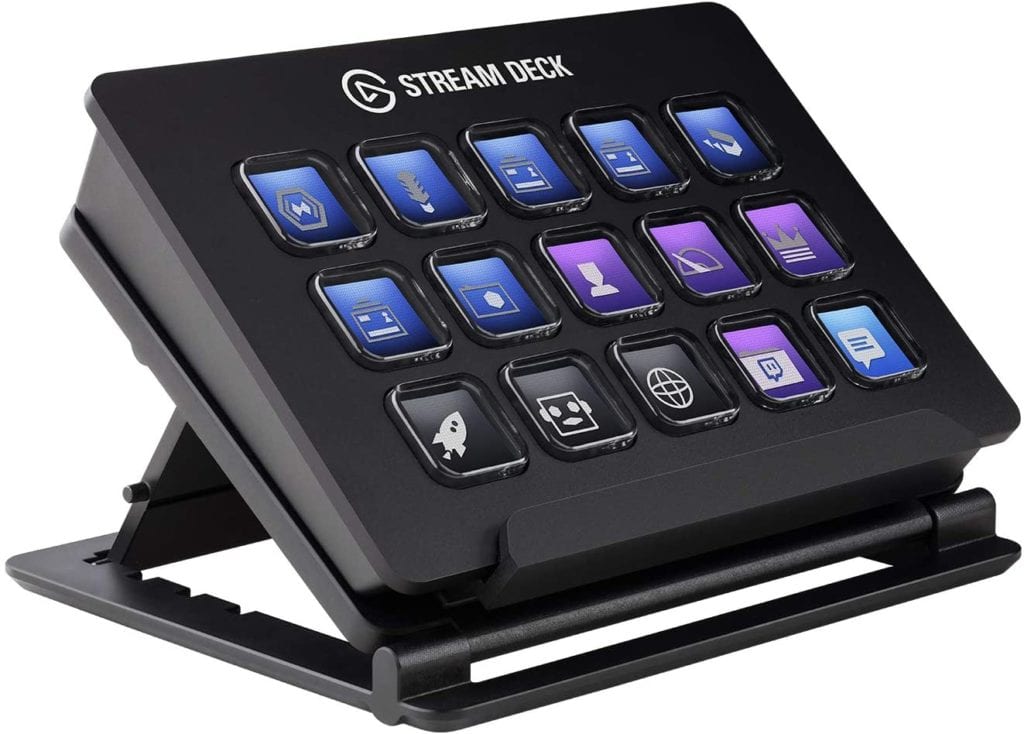 No. of Keys: 15
Build Quality
The build of the device is impressive and straightforward, with all-around solid construction and comfortable keys with the option of raising the whole deck at an angle for better comfort. The keys feel fantastic, and the OLED display under each resolution brings a more personal touch to the device.
Pros:
It makes gaming and streaming more effortless and accessible
Delivers an excellent experience for a fraction of pro-grade devices
Features a rich customizable experience
Cons:
No mechanical switches
The control software sometimes glitches out
With all the gaming gear experience, Razer has its claws dipped in the keypad section with the Tartarus V2, and these are the best possible gaming-centric keypad that you can get your hands on. With the mechanical keys, soft, comfortable palm rest, and triggers, this keypad delivers excellent performance and accuracy for all gamers out there.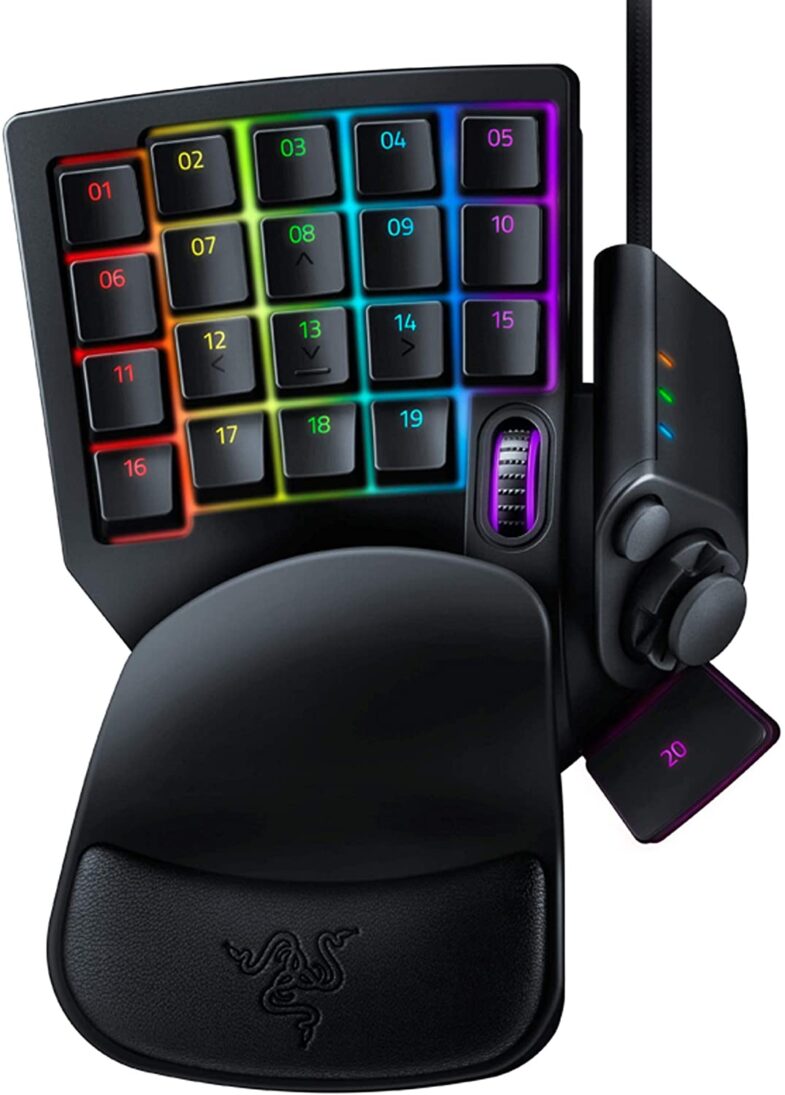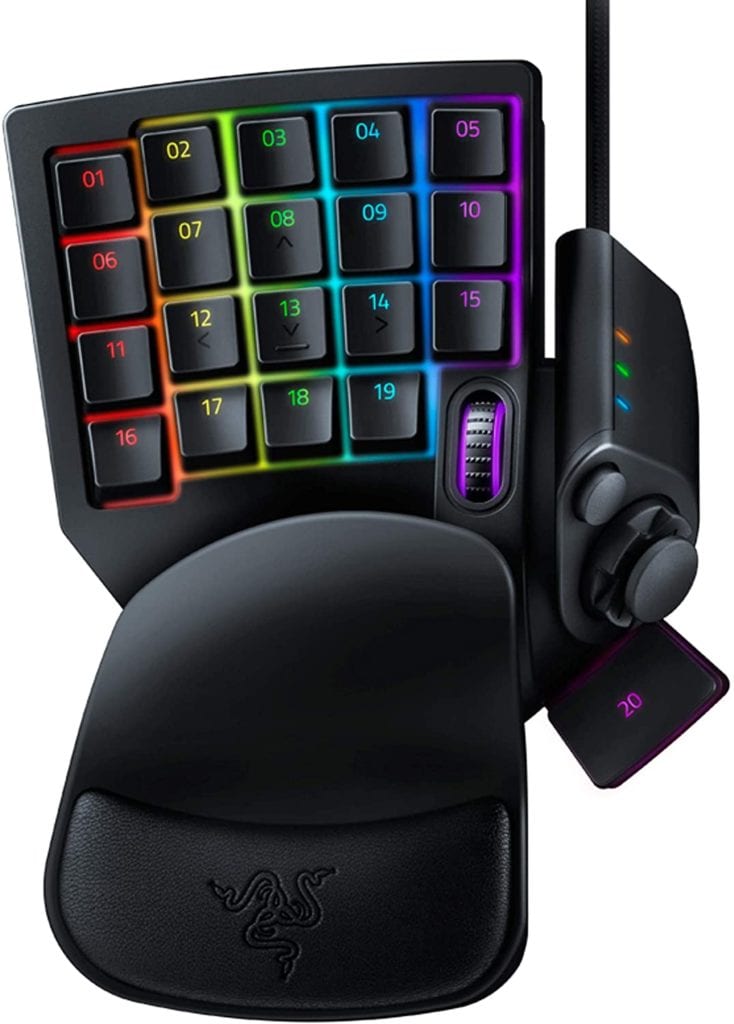 No. of Keys: 32
Build Quality
Equipped with 32 pressure-sensitive programmable keys, built with either membrane or optical switches, the Tartarus offers customization, precision, and accuracy like no other gaming keypads. The macro switches provide a great experience, and with a reliable and comfortable RGB enabled to build, this keypad never disappoints.
Pros:
Excellent gaming experience with efficient switches
Comfortable palm rest
RGB lights for a gamer aesthetic
Programmable D-Pad
Cons:
A little pricey with the "Razer tax."
A bit bulky and can be an issue for smaller hands
The Logitech G13 is a performance-oriented gamepad built with premium materials that consider the hands' natural shape and delivers an ergonomic design, which means greater comfort and precision in long gaming sessions. The G13 also brings RGB to the game, provides fully customizable memory profiles, adds on a display panel to the top for necessary information, and includes a joystick for all the casual RPG gamers present out there.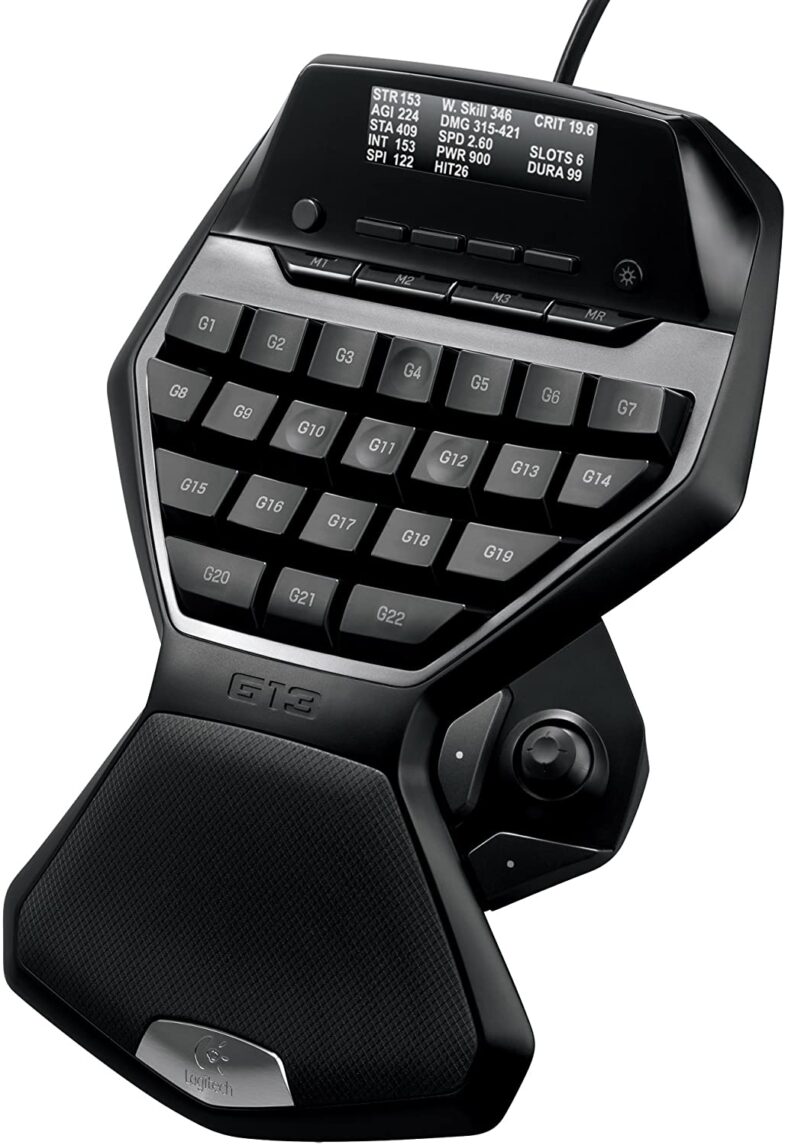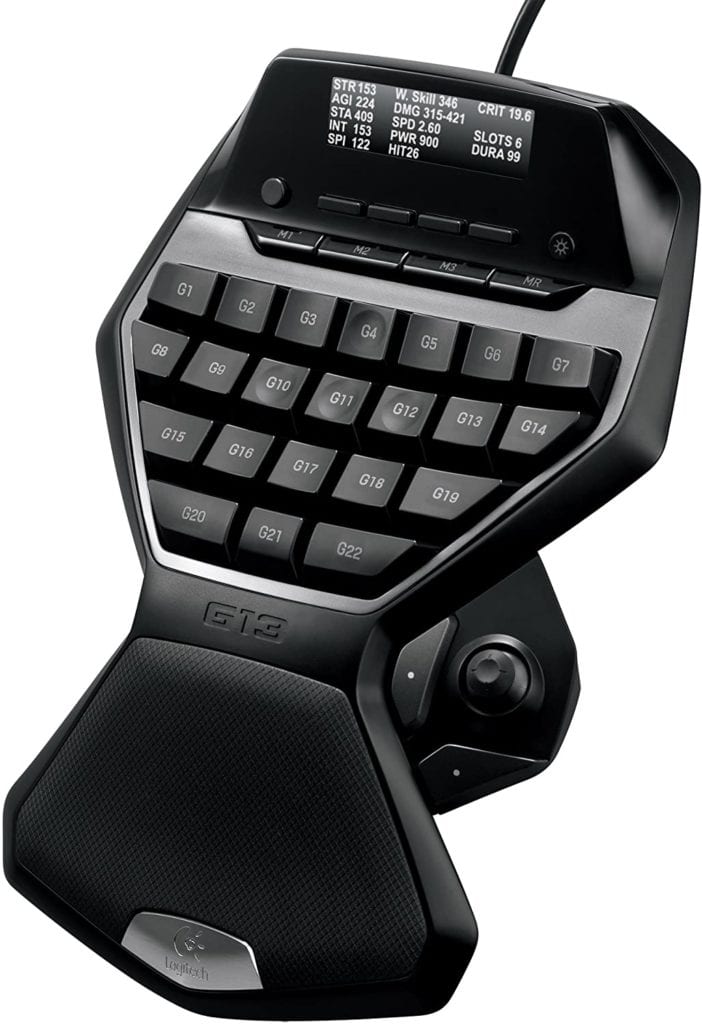 No. of Keys: 25
Build Quality
A lightweight profile, a comfortable palm rest, and the inclusion of an ergonomic design with RGB built-in make this one of the best gaming keypads on the market. The display also displays the most crucial information with a glance, and the comfortable programmable key switches work as intended for any macro functionality.
Pros:
Very comfortable with excellent premium materials and an ergonomic design
Excellent mechanical key switches.
Great RGB lighting options
Cons:
The display drives up the price and brings little to no benefits
The palm rest could've been a larger
GameSir GK100 – Best Mid-Range PC Gaming Keypad
GameSir is in the market to provide excellent gaming peripherals at a budget, and the GK100 provides a great keypad experience at a budget price tag. The build is solid with keys that offer great travel and accuracy, and with customizable macros, the keypad becomes an essential choice for anyone in the market.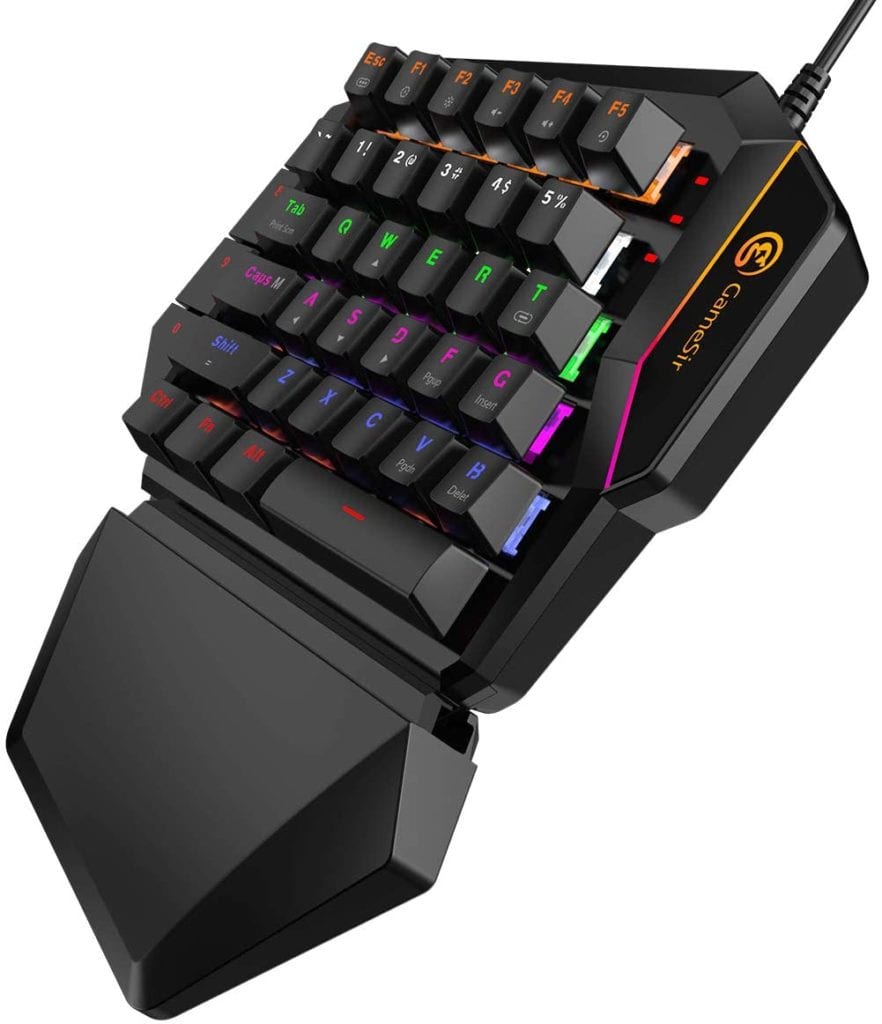 No. of Keys: 34
Build Quality
The GameSir GK100 comes equipped with 34 fully programmable keys with mechanical switches, which allows to have precise control over the feel and look of the buttons and with features such as RGB, a comfortable palm rest, and a solid plastic build, the GK100 feels like a tank and performs like a beast.
Pros:
Excellent mechanical switches for comfort and precision
Affordable price with a superb build
Beautiful RGB aesthetics
Cons:
The Blue Mechanical switches are loud and can be a little disturbing
Redragon K585 DITI – Budget-Friendly Programmable Keypads
The Redragon is the most affordable option on the list but don't be fooled. The price here doesn't mean it's built of cheap material. It is constructed well and compromises solid plastic with great BLUE Mechanical switches. This makes it feel premium and bring it on par with most high-end keypads. The RGB LEDs also give it a gamer aesthetic. The comfortable wrist rest provides excellent support while extended gaming sessions.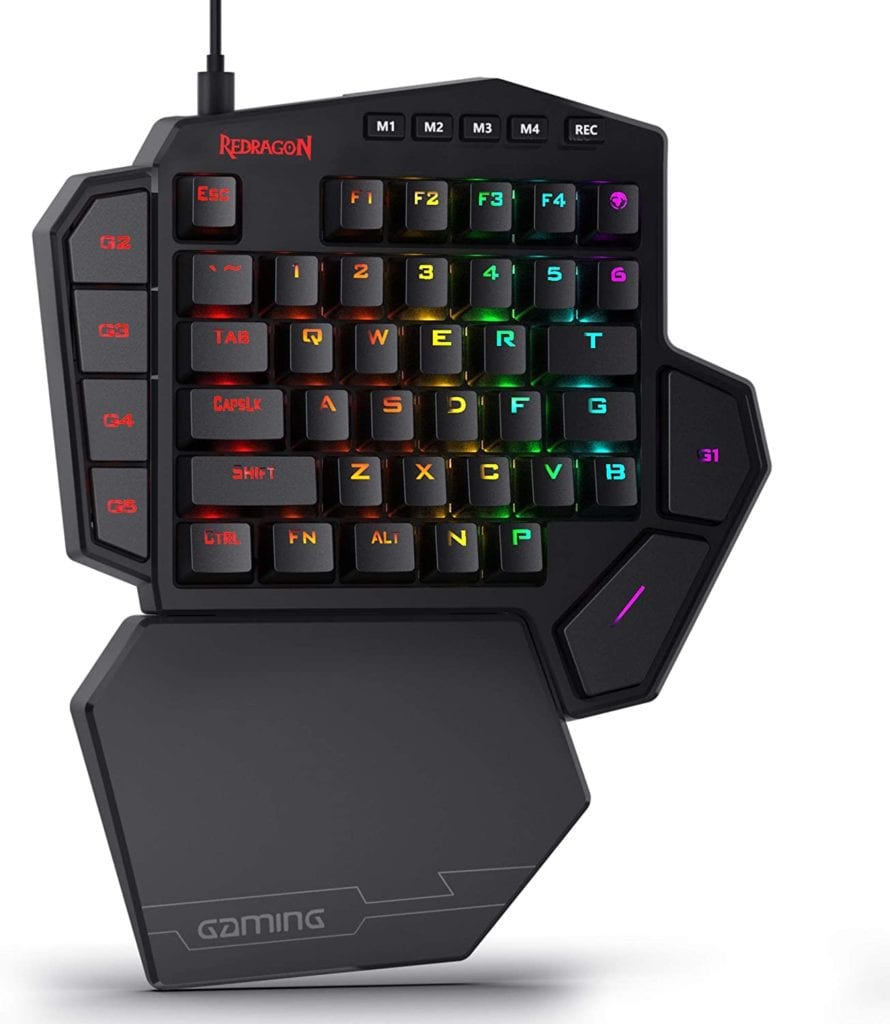 No. of Keys: 42
Build Quality
The K585 DITI is correctly built, ergonomic, and affords an excellent performance level at a budget-friendly price tag. The programmable switches and LEDs also improve the user experience. The sensitivity of the buttons provides extraordinary response times with great accuracy. The wrist rest also offers excellent comfortability in extended gaming sessions.
Pros:
The mechanical switches provide excellent compatibility and performance
Provides an excellent build with a comfortable wrist rest
An affordable price tag for all beginner gamers
Cons:
Loud BLUE Mechanical Key switches
The greater sensitivity can lead to adjusting to it
Some things to consider:
Price – Do consider the price as all of these keypads can deliver the same possible performance for very different price tags.
Comfort Levels – The comfort levels are crucial as they can be an essential factor in any gaming session and can also determine a match. So, look for a great wrist/palm rest for better comfort.
Type of Switch – The kind of switch used can vary with the keypad. The general rule of thumb is that mechanical keys are better in performance while membrane keys are quieter in operation. So, decide as per your needs.
Final Verdict
While there are many options for great Gaming Keypads out there in the market. However, it isn't easy to match your needs with a specific keypad. Therefore, we have tried our best to deliver you with all the details, specifications, and features that you might need to decide on a great purchase, and we hope that we have met your expectations.
Some of these devices include the Redragon Keypad for a budget-friendly option. The unique Elgato Stream Deck that blows the rest of the competition out of the water by bringing incredible performance and customizability to the table.
Well, that's all for this post on the best gaming keypads available out there! If you have any questions regarding the keypads we have reviewed or add something of value, do reach out to us in the comments section below.