Video games have been around for quite some time now, and over time, they have evolved and improved in all their aspects including storytelling, gameplay, and visuals. With such evolution, it was only natural that they would become more demanding when it comes to the hardware required to run them, and although technology doesn't usually come cheap, nowadays, there are plenty of options to consider which is why today we will be trying to build the best budget gaming PC. The goal of this PC is to be able to run video games at 60FPS in 1080 resolution and cost around $600. This build will also not include a monitor or any peripherals. Let's get started.
CPU
The CPU is one of the most important parts alongside the GPU for any computer build and the best budget gaming PC of 2023 is no exception. While there are many options available when it comes to CPUs, we have decided to go with the ones which will provide you the best bang for your buck.
AMD Processor
AMD has reclaimed their fame in the CPU world with their release of the latest generation of Ryzen CPUs, and while those are a bit out of our budget when it comes to the best affordable gaming PC, the previous versions of Ryzen CPUs will work here just fine. For this particular build, we have chosen to go with the Ryzen 3300X which is a 4-core 8-thread CPU with a base frequency of 3.8 GHz which will be more than enough for running games at 60 FPS in full-HD resolution. Unfortunately, Ryzen 3300X is not the cheapest gaming CPU on the market with the price tag of $120 but it will give you amazing results when it comes to performance.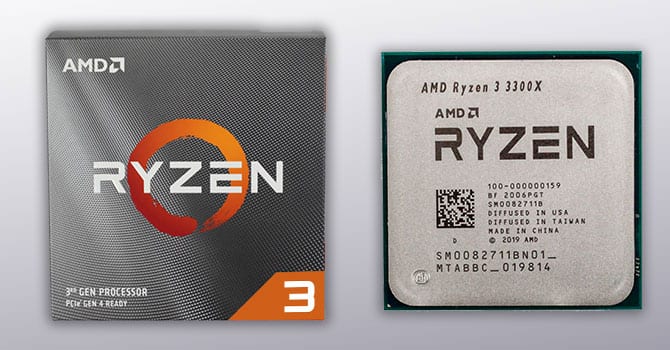 | | |
| --- | --- |
| Clock Rate | 3800 – 4300 MHz |
| Level 1 Cache | 256 KB |
| Level 2 Cache | 2 MB |
| Level 3 Cache | 16 MB |
| Number of Cores / Threads | 4 / 8 |
| Power Consumption (TDP = Thermal Design Power) | 65 Watt |
| Manufacturing Technology | 7 nm |
| Socket | AM4 (1331) |
| Features | MMX(+), SSE, SSE2, SSE3, SSSE3, SSE4.1, SSE4.2, SSE4A, x86-64, AMD-V, AES, AVX, AVX2, FMA3, SHA, Precision Boost 2 |
| 64 Bit | 64 Bit support |
| Starting Price | $120 U.S. |
| Announcement Date | 05/07/2020 = 177 days old |
Intel Processor
For those of you who really want to go with an Intel CPU, a good budget choice for a build such as this is the Intel I3 9100F which is a 4-core processor with 4 threads which is less than our AMD CPU mentioned above, however, Intel CPUs at this price do have a performance advantage when it comes to gaming and you will get similar performance out of the Intel I3 9100F compared to Ryzen 3300X at a cheaper price of only around $75.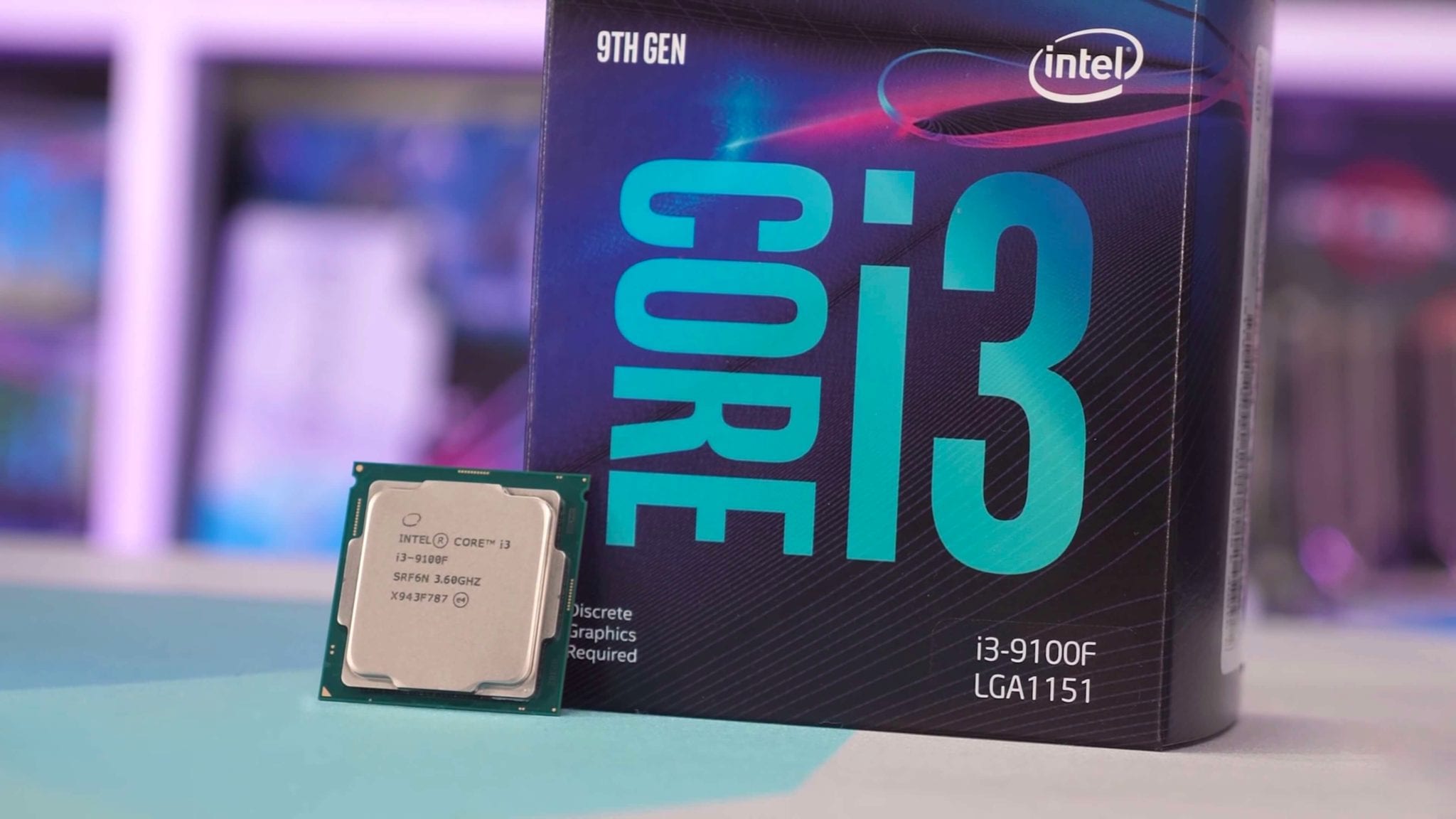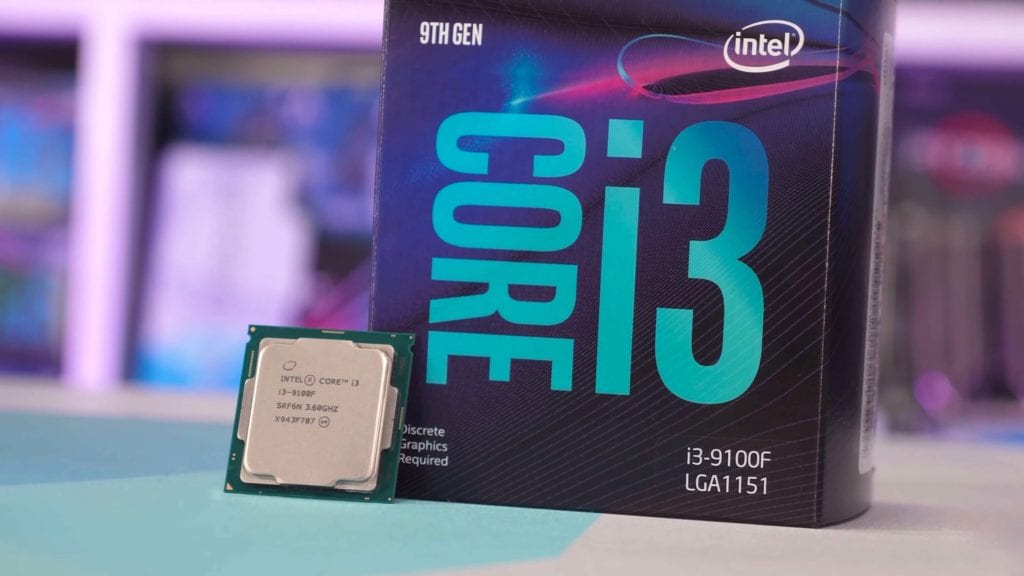 | | |
| --- | --- |
| Frequency  | 3600 MHz |
| Maximum turbo frequency | 4200 MHz |
| Low power frequency | 800 MHz |
| Bus speed   | 8 GT/s DMI |
| Clock multiplier   | 36 |
| Package | 1151-land Flip-Chip Land Grid Array |
| Socket | Socket 1151 / H4 / LGA1151 |
| Size | 1.48″ x 1.48″ / 3.75cm x 3.75cm |
| Introduction date | 2nd quarter 2019 |
Note: It is important to note that while the Intel CPU is cheaper than the AMD CPU and indeed offers more or less identical performance, it does have some disadvantages, mainly when it comes to upgrading and longevity. If at a later point in time, you decide to replace your CPU with a better one of the newer generation, if you went with the Intel build, you would have to replace your motherboard in addition to your CPU.
Motherboard
The motherboard is usually not a computer part where you would typically want to cheap out in order to save a few dollars, however, considering the fact that we are trying to maintain a tight budget, we will need to cut some corners so for our pick, the only condition that we want our motherboard to fulfill is to support all the other PC parts that we have picked. With the parameters set, for our AMD build we have chosen the Asus A520M-K which supports all the parts that we have picked or are planning to pick as well as offers decent upgrade options somewhere down the line. The Asus A520M-K will cost you around $60 which is as cheap as you can get when it comes to motherboards. For our Intel build, one of the cheaper choices is the Asus Prime H310M-E which is not ideal, but comes with the same price tag as its AMD rival which makes it good enough for this build.
GPU
No matter what CPU you have chosen to go with when it comes to the best budget gaming pc in 2023, there is only one good choice when it comes to graphics cards which is the Radeon RX 5500 XT 8GB. This GPU will definitely give you the greatest performance for the price of around $180 depending on the model. The RX 5500 XT 8GB is the only GPU with 8 GB of memory at this price point, alongside the RX 590, however, compared to it, the Radeon RX 5500 XT 8GB features newer architecture which makes it the optimal choice for a 2023 best budget gaming PC.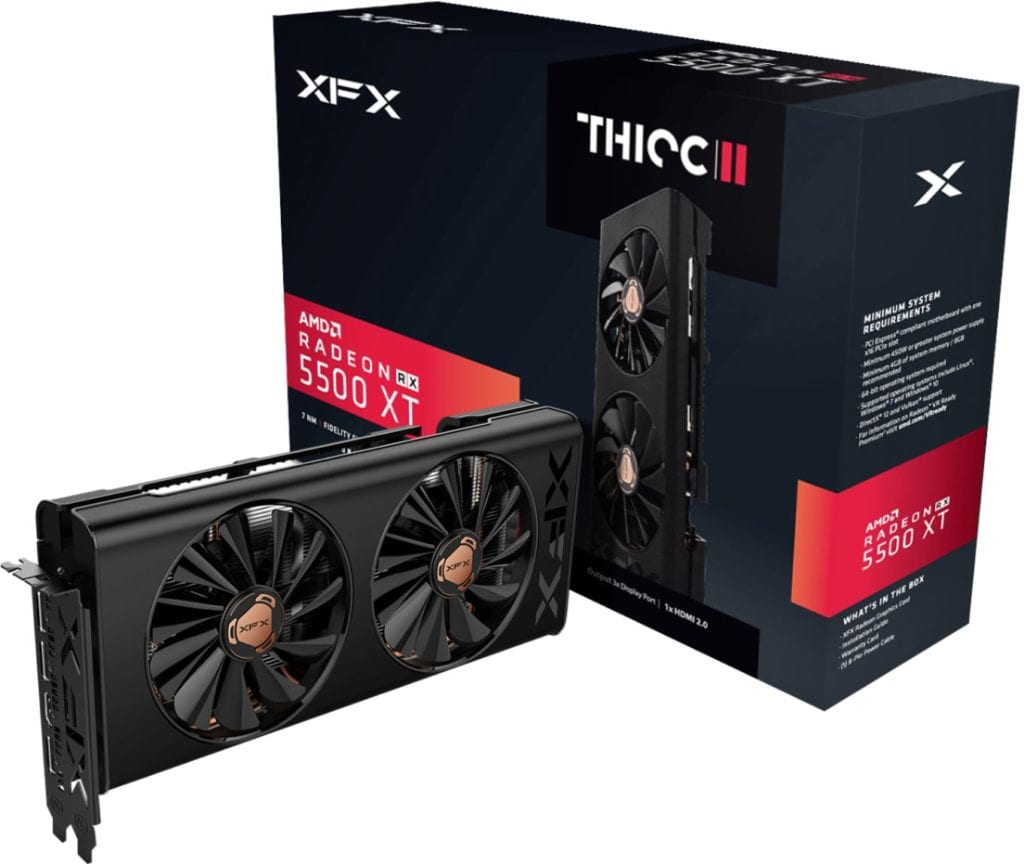 CUs
22
(1408 SPs)
Texture Units
88
ROPs
32
Base Clock
1607MHz
Game Clock
1717MHz
Boost Clock
1845MHz
Throughput (FP32)
5.2 TFLOPs
Memory Clock
14 Gbps GDDR6
Memory Bus Width
128-bit
VRAM
4GB/8GB
Transistor Count
6.4B
Typical Board Power
130W
Manufacturing Process
TSMC 7nm
Architecture
RDNA (1)
GPU
Navi 14
Launch Date
12/12/2019
Launch Price
$199/$169
Storage
SSD
Storage is definitely something that you need to consider when you are building a PC on a budget and depending on your needs, you may want more or less storage, however, on a gaming PC, you will definitely want a solid-state drive at least for your system and a couple of games that you regularly play. These SSDs are a lot faster compared to the hard disk storage drives and are very cheap nowadays so there is really no reason for you not to get one. For this particular build, we have chosen the Kingston A400 240GB SSD which will set you back around $30.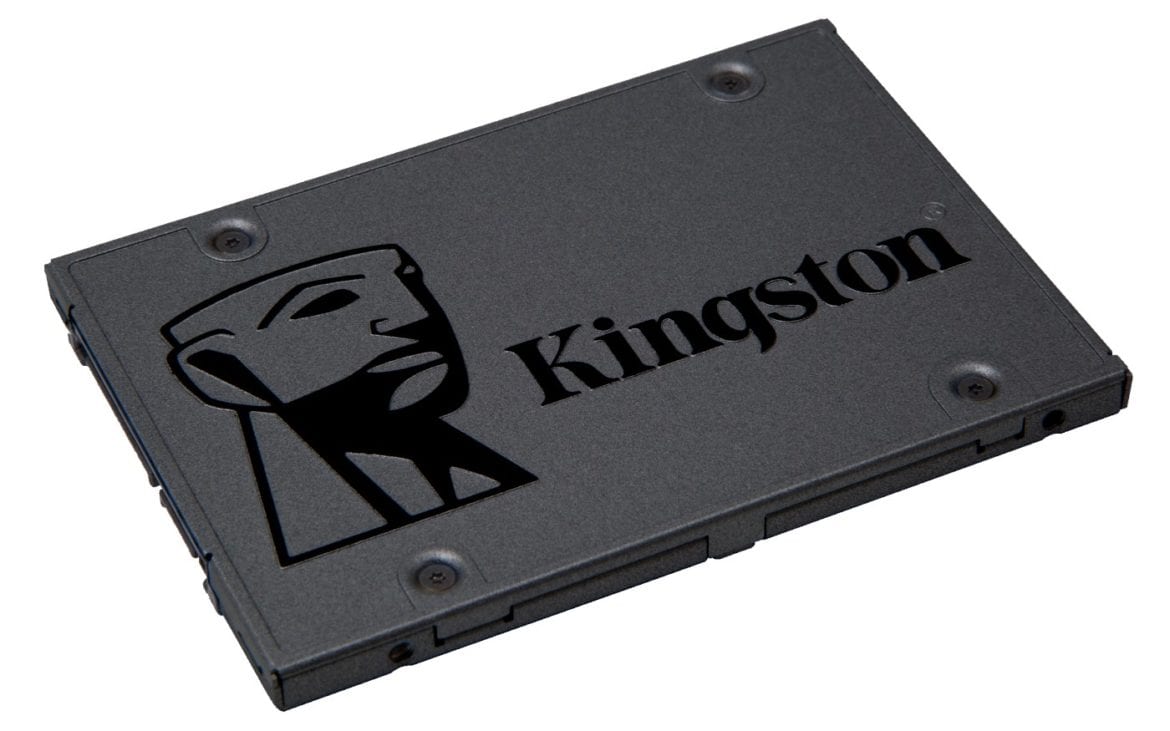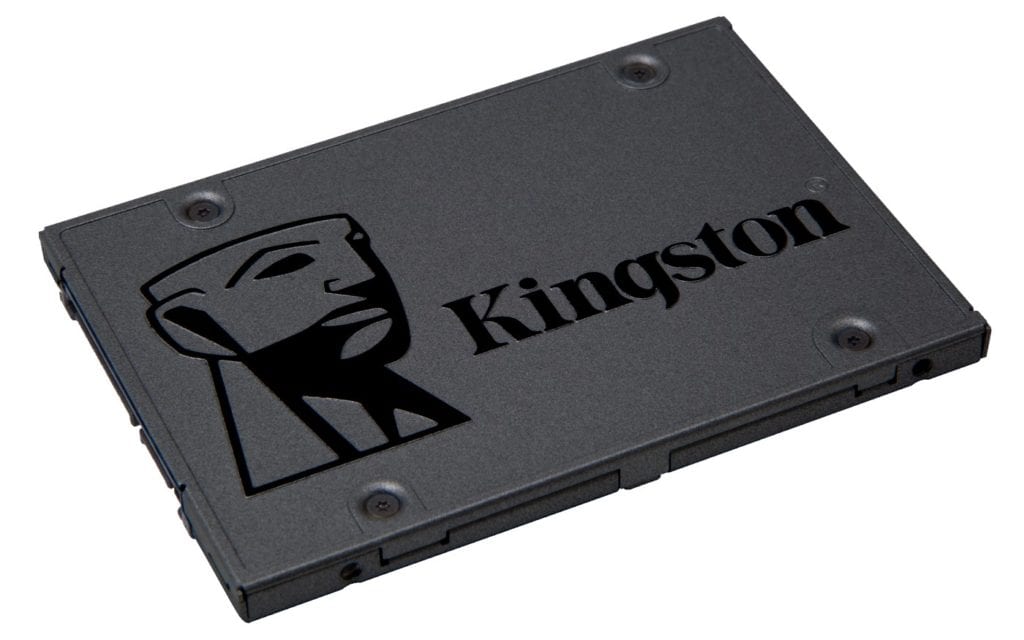 Form factor
2.5″ & M.2 2280
Interface
SATA Rev. 3.0 (6Gb/s) – with backwards compatibility to SATA Rev. 2.0 (3Gb/s)
Capacities2
120GB, 240GB, 480GB, 960GB, 1.92TB
NAND
3D
Baseline Performance1
Data Transfer (ATTO)
120GB — up to 500MB/s Read and 320MB/s Write
240GB — up to 500MB/s Read and 350MB/s Write
480GB — up to 500MB/s Read and 450MB/s Write
960GB — up to 500MB/s Read and 450MB/s Write
1.92TB — up to 500MB/s Read and 450MB/s Write
Power Consumption
0.195W Idle / 0.279W Avg / 0.642W (MAX) Read / 1.535W (MAX) Write
Storage temperature
-40°C~85°C
Operating temperature
0°C~70°C
Dimensions
100.0mm x 69.9mm x 7.0mm (2.5")
80mm x 22mm x 1.35mm (M.2)
Weight
39g (120GB – 2.5")
41g (240-480GB – 2.5")
41.9g (960GB – 2.5")
5.5g (120GB – M.2)
6.7g (240GB – M.2)
5.5g (480GB – M.2)
Vibration operating
2.17G Peak (7–800Hz)
Vibration non-operating
20G Peak (10–2000Hz)
Life expectancy
1 million hours MTBF
Warranty/support3
Limited 3-year warranty with free technical support
Total Bytes Written (TBW)4
120GB: 40TB
240GB: 80TB
480GB: 160TB
960GB: 300TB
1.92TB: 600TB
HDD
Depending on one's personal needs, 240 GB of storage can be enough but let's be real here, we are building the best budget gaming PC on which we want to play video games as much as possible, so naturally, we will need a lot of space where we can keep our video games. This means that alongside the SSD for our operating system, we will need a hard disk drive for all our games. This spot was conveniently filled by Toshiba P300 which is a 1 TB hard disk with a rotational speed of 7200 rpm and a price tag of $50 which is perfect for our budget.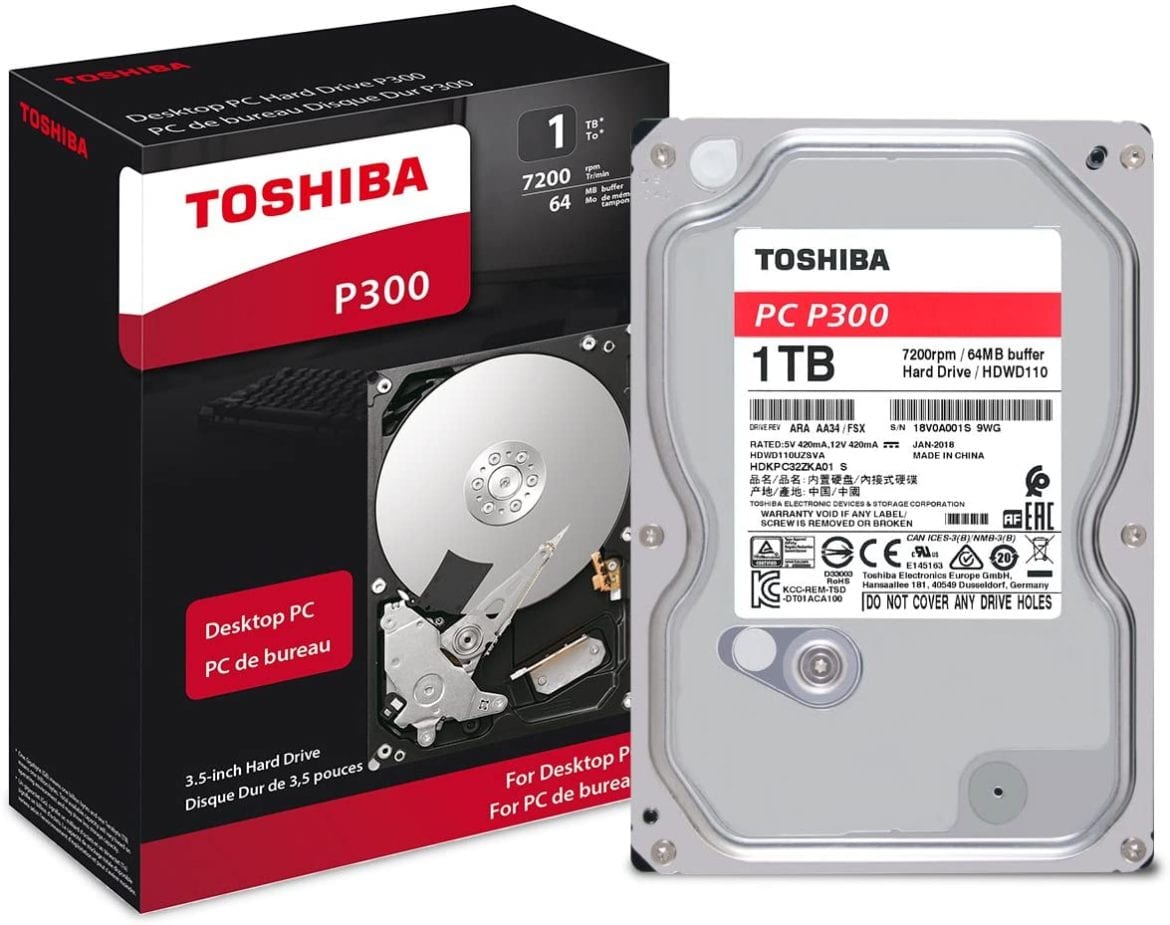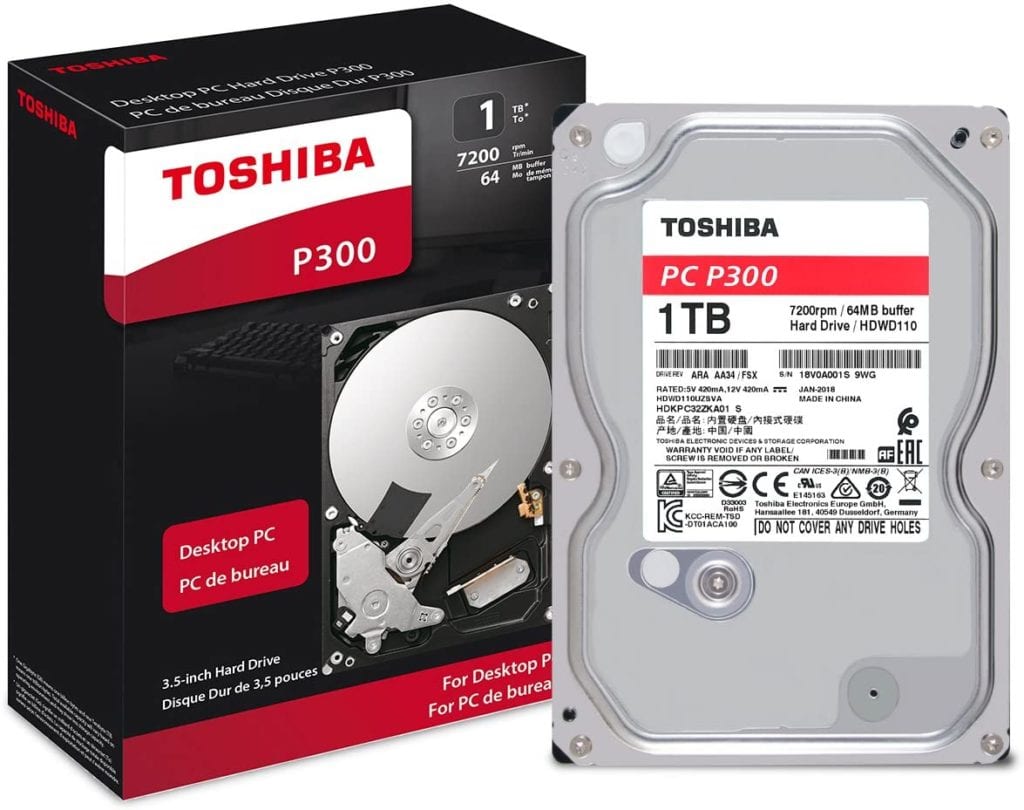 | | |
| --- | --- |
| Model | HDWD110UZSVA |
| Capacity | 1000GB |
| Cache  | 64MB |
| RPM  | 7200 |
| Interface  | SATA 6 Gb/s |
| Form Factor  | 3.5″ |
Power Supply
The power supply is another PC part that you want to cheap out on, regardless of whether you are building the best budget gaming PC in 2023 or not, however, power supplies come in many different shapes and sizes as well as their own attributes, but since we are looking to pass as cheaply as we can, we will mostly focus on the power supply being stable, safe and have enough power to run our other components without any issues. The EVGA 600W 80+ Certified seemed to tick all the boxes for us, and at the time of writing this, it is priced around $60 which is not that much for a power supply such as this one.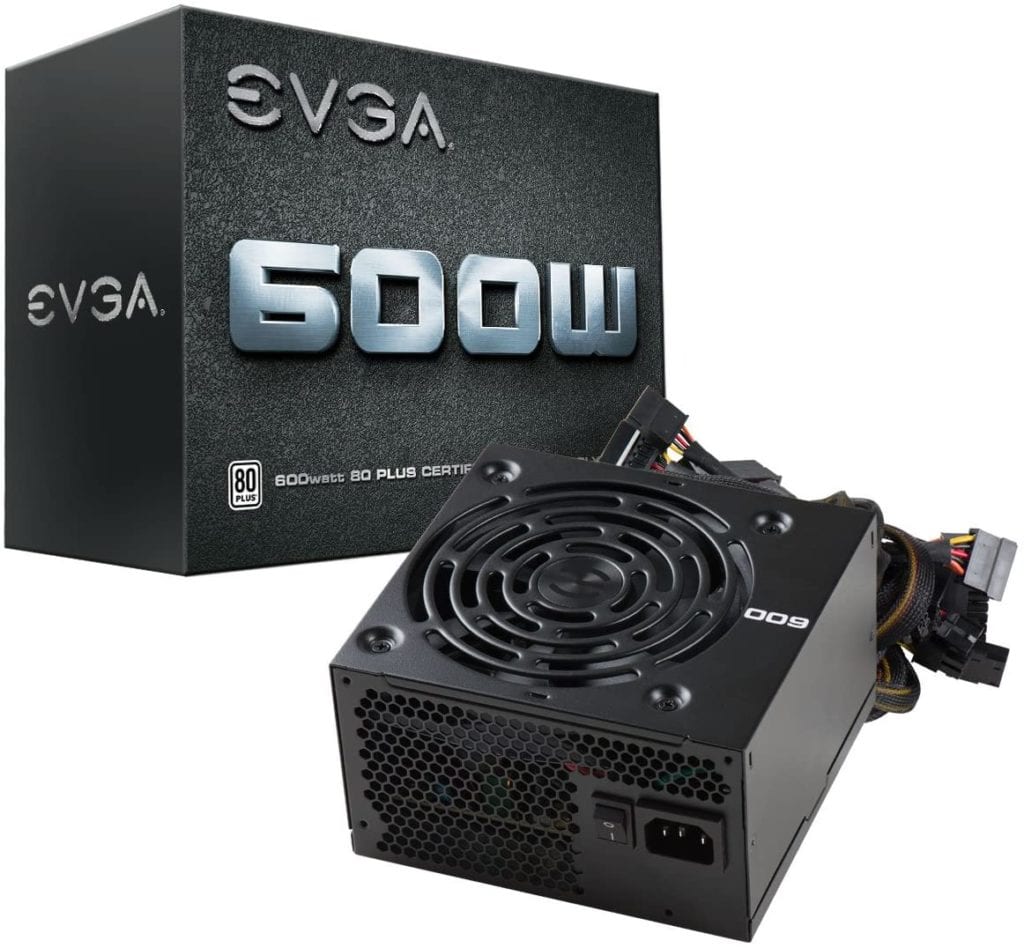 CONNECTOR QUANTITY
| | |
| --- | --- |
| 24 Pin ATX | 1x |
| EPS (CPU) | 1x 8pin (4+4) |
| PCIe | 2x 8pin (6+2) |
| SATA | 6x |
| Four-Pin Peripheral | 3x |
| Floppy | 1x |
INPUT
| | |
| --- | --- |
| Input Voltage | 100 – 240 VAC |
| AC Input | 10-5A |
| Input Frequency Range | 50 – 60 Hz |
| Efficiency | 80% Typical |
OUTPUT
Rail
+3.3V
+5V
+12V
-12V
+5Vsb
Max output
24A
20A
49A
0.3A
3A
49A
130W
588W
3.6W
15W
Total
600W @ +40C
RAM
When it comes to RAM there is a plethora of options to choose from, as well as a few different criteria that you will need to consider such as memory speed, latency and aesthetics, and RGB. Sadly, since we are looking to make the best gaming PC in 2023, most of those criteria don't apply so we are looking the get the best performance for the lowest price. At the time of writing this, the G.Skill Ripjaws V Series 16 GB DDR4-3200 appears to fit our only criteria in every aspect at a price of around $60 which is a bargain.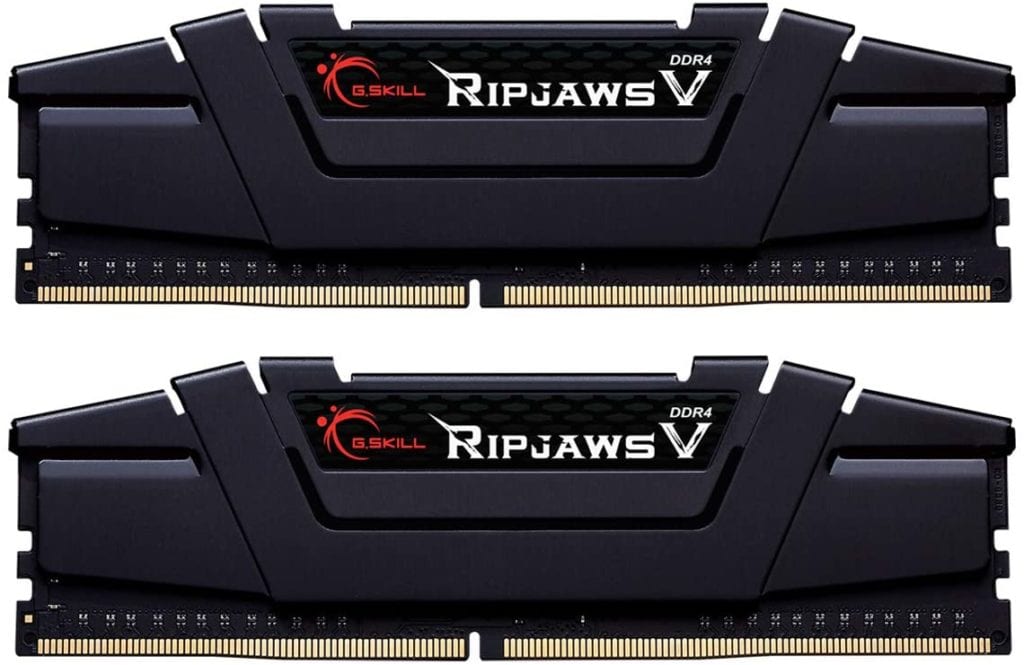 | | |
| --- | --- |
| Brand | G.Skill |
| Series | Memory D4 3200 16GB C16 GSkill RipV1x16GB;1,35V,RipjawsV Black |
| Item model number | F4-3200C16S-16GVK |
| Item Weight | 2.4 ounces |
| Product Dimensions | 3.94 x 3.94 x 3.94 inches |
| Item Dimensions LxWxH | 3.94 x 3.94 x 3.94 inches |
| Color | Black |
| Computer Memory Type | DDR4 SDRAM |
| Manufacturer | G.Skill |
| ASIN | B0171GQXME |
| Is Discontinued By Manufacturer | No |
| Date First Available | November 8, 2015 |
Case
With our parts picked, we are almost done. Now we just need a case in which to put them all in and once again due to the budget we will not be focusing on the looks of it, but rather the airflow and cooling options that the case offers. After looking around for a while, the Fractal Design Meshify C ATX Mid Tower Case seemed to offer everything that we needed. It allows decent airflow, liquid cooling support, flexible storage options, and all for the low price of $50.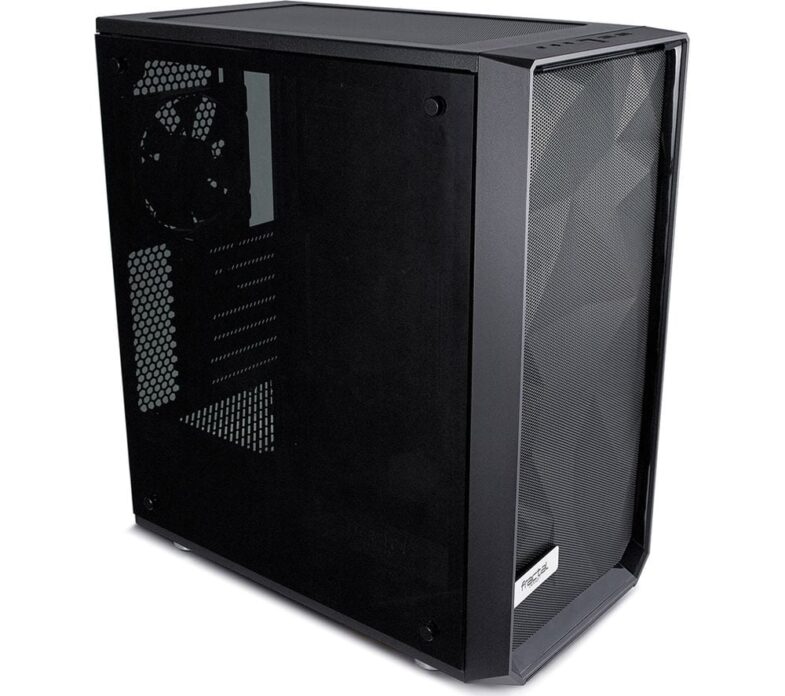 Now that you have the information to go out there and build the Best Budget Gaming PC! Go make the best of your time out there and get building. Please be sure to check out our other content to help you build the best gaming set up your heart desires.