Ever since Call of Duty: Warzone came out, it set the trend for a battle royale should look, feel, and play out. There are many things that Warzone does differently than its competition, which has made it the most successful in its genre, both in player base and in viewership. The game is such a big hit that it has attracted some of the most popular streamers in the world to spend their days chasing victory after victory.
Streaming is a big part of our culture. It's a great way to learn new things while also having fun. That's also the case with the Call of Duty: Warzone streamers, whom you can watch to improve your own gameplay or just laugh at their silly mistakes.
But even if you don't follow a lot of streamers, we still recommend you to check these 5 stars out and spectate their brilliant gameplay! And if you're looking to enhance your gaming setup, here is what these top 5 Call of Duty Warzone streamers are using to be the very best in the game!
5. TimTheTatman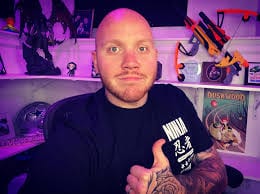 TimTheTatman is one of the legends of Twitch. He has 5.6 million followers and thousands of viewers every time he turns his stream on. Because of his gaming background, he has quickly become one of the best players in Warzone, often carrying his team to victory. Whenever he plays, kills are happening all around, some of which shouldn't be even possible!
Also, Tim plays Warzone with a lot of popular names like Ninja, DrLupo, and Nadeshot, so his stream can be a great learning tool if you're an aspiring COD player. If you want to know which gaming mouse or a gaming keyboard TimTheTatman uses, here they are: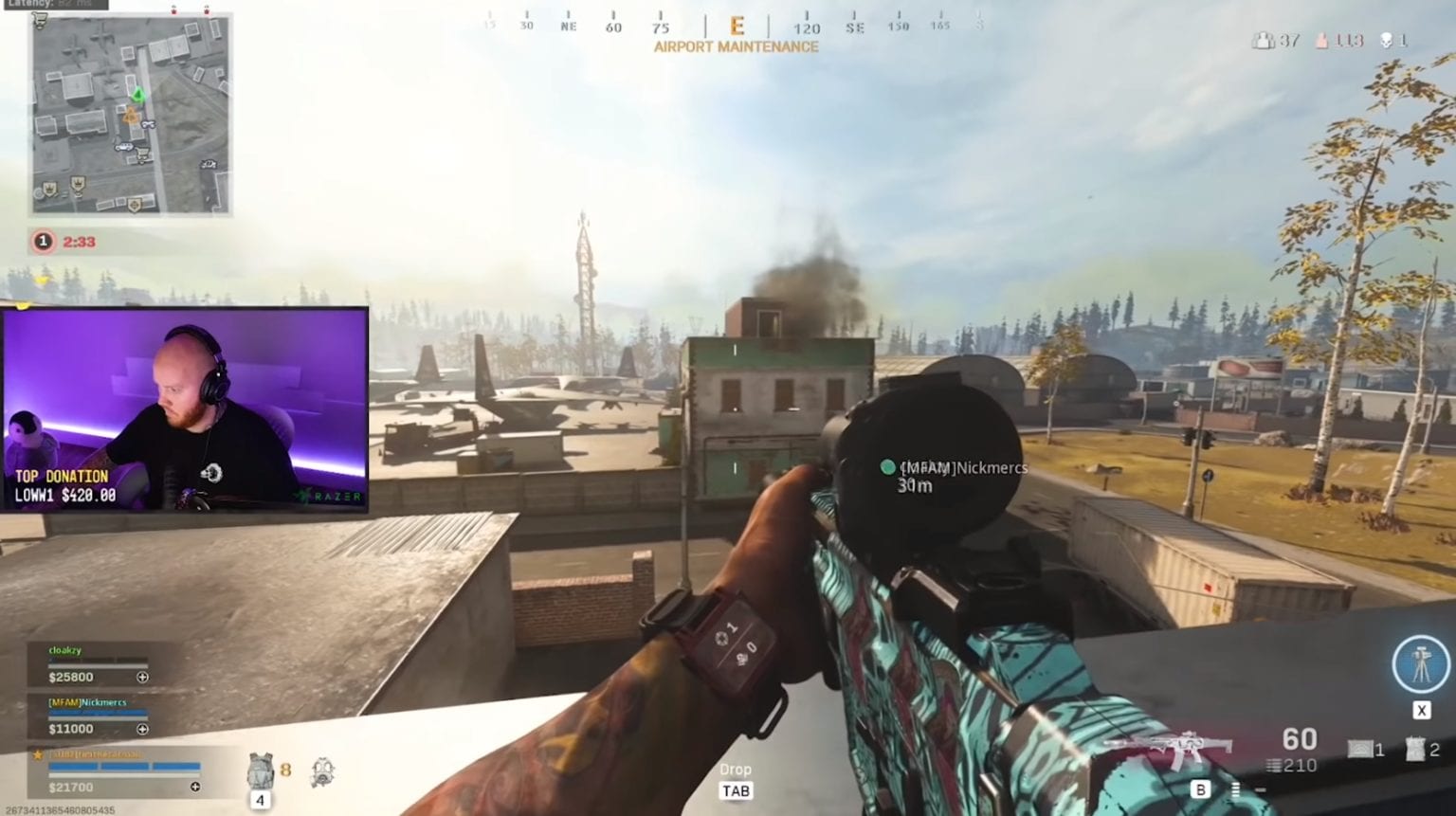 GAMING PC:
CPU: INTEL CORE I9-9900K
GPU: EVGA GEFORCE RTX 2080 TI
MOTHERBOARD: MSI MEG Z390 ACE
MEMORY: TEAMGROUP T-FORCE XCALIBUR 32GB
CASE: NZXT H700
COOLING: NZXT KRAKEN X72
SSD: SAMSUNG 970 EVO 1TB
HDD: SEAGATE 4TB BARRACUDA
POWER SUPPLY: NZXT NP-1PM-E850A E-SERIES 850W
GEAR:
KEYBOARD: RAZER HUNTSMAN ELITE
MOUSE: RAZER DEATHADDER V2
MONITOR: LG 27GL850
HEADSET: AUDIO-TECHNICA ATH-M50XBB
MOUSE PAD: RAZER GIGANTUS
CHAIR: MAXNOMIC TIMTHETATMAN EDITION
STREAMING SETUP:
MICROPHONE: AUDIO-TECHNICA BP40
WEBCAM: PANASONIC LUMIX G7
CAPTURE CARD: AVERMEDIA LIVE GAMER HD 2
MIXER: GOXLR
4. Dr Disrespect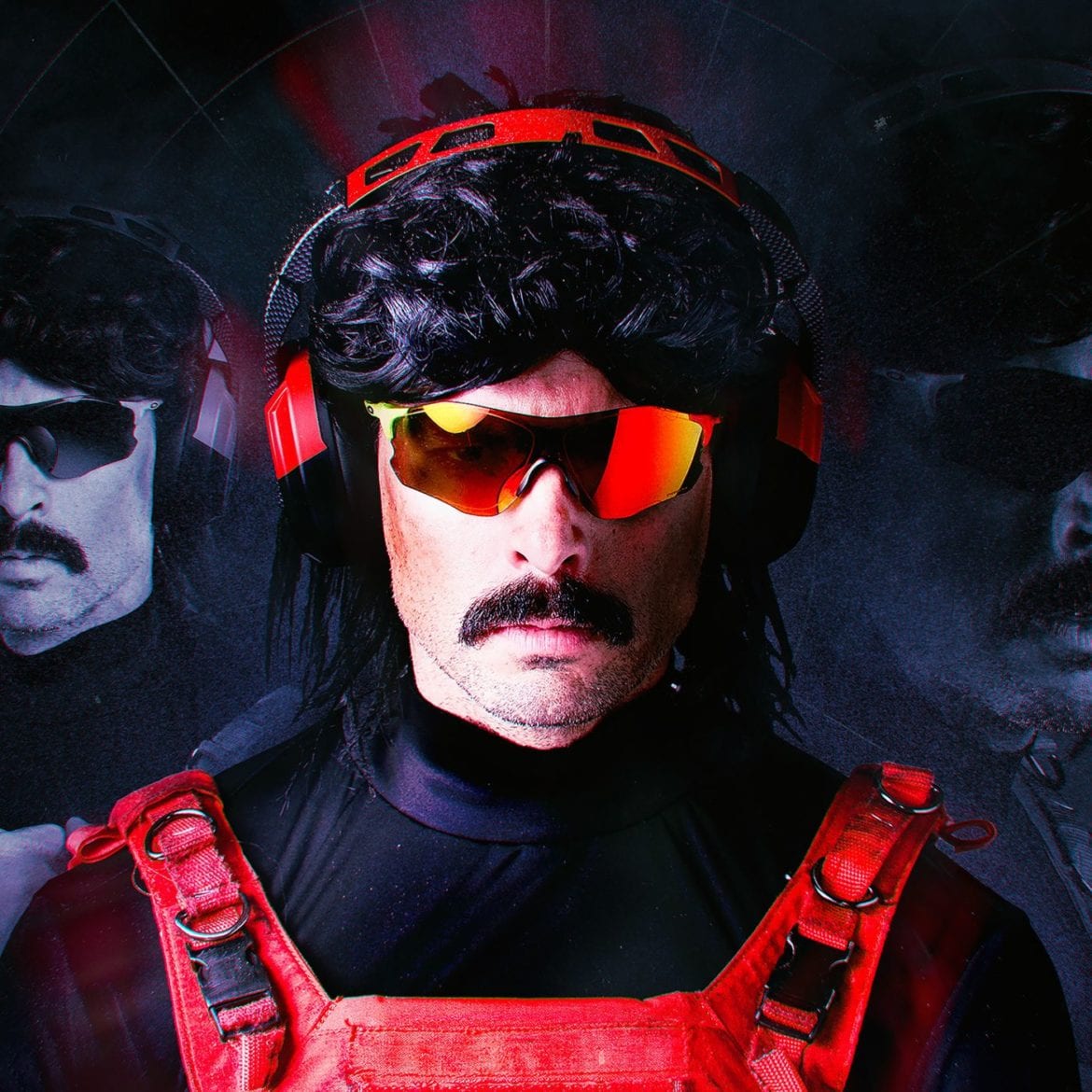 No list of top streamers can be made without DrDisrespect! This man is known by every gamer on this planet because of his flamboyant character and looks. But it's not only due to his popularity that he appears on our list, but his success in COD: Warzone too.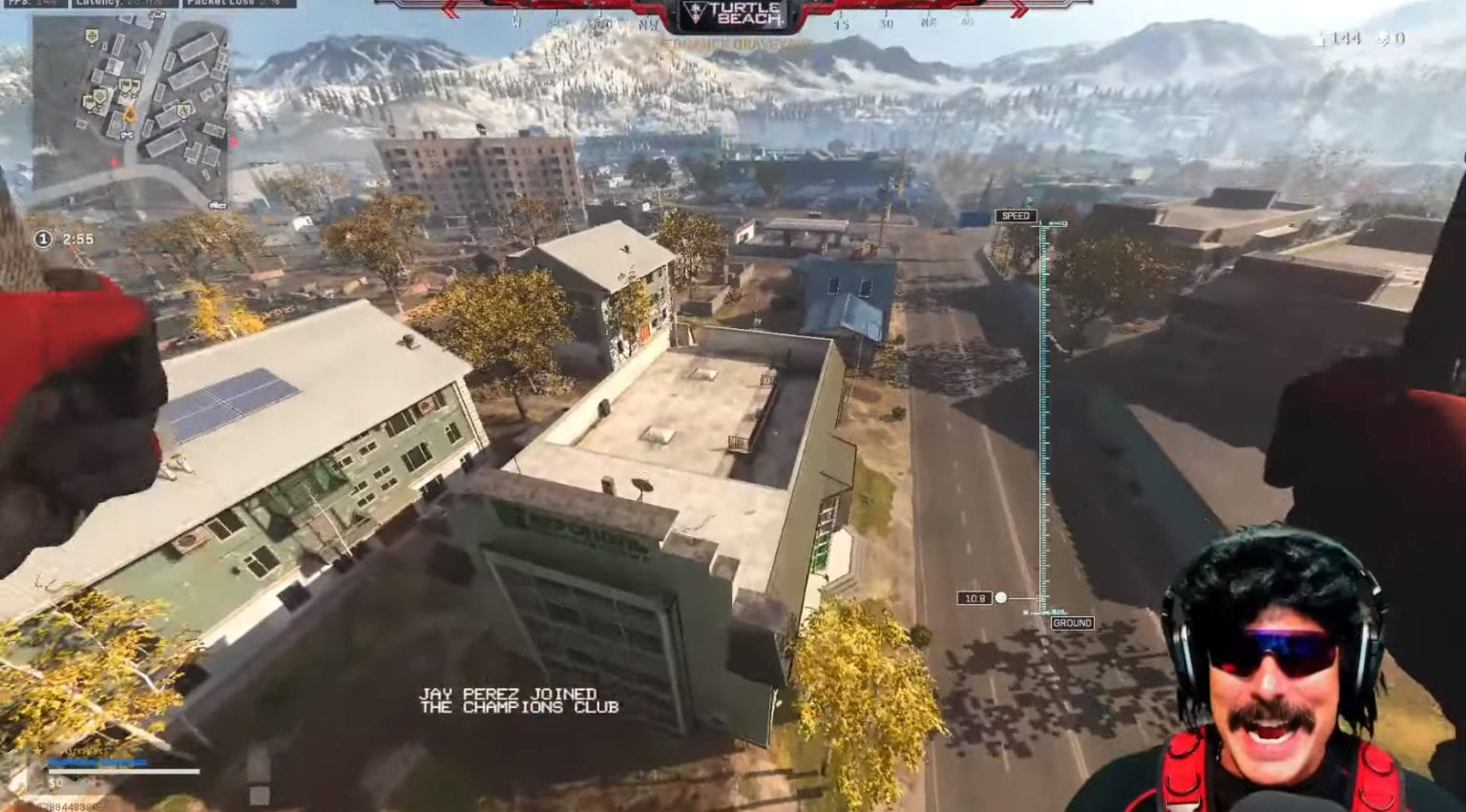 DrDisrespect often shows his prowess in Warzone through his Triple Threat Challenge, where he gets back-to-back victories. He streams on Youtube, and his channel has astonishing 3.07 million subscribers! His gaming and streaming setup looks like this:
GAMING PC:
CPU: AMD Threadripper 3990X 2.9 GHz 64-Core
GPU: 2x NVIDIA GeForce RTX 2080 Ti 11GB
MOTHERBOARD: Asus ROG ZENITH II EXTREME ALPHA EATX sTRX4
MEMORY: G.Skill Ripjaws V 256 GB (8 x 32 GB) DDR4
CASE: Aventum X
SSD: Samsung 970 Evo 2TB NVME (x2)
COOLING: 14x Corsair ML140 PRO RGB
GEAR: 
KEYBOARD: ROCCAT VULCAN 122 AIMO
MOUSE: ROCCAT KAIN 200 AIMO
MONITOR: ASUS ROG SWIFT PG258Q
HEADSET: ROCCAT SENSE AIMO
MOUSE PAD: TURTLE BEACH ATLAS AERO
CHAIR: MAXNOMIC COMMANDER S DRDISRESPECT EDITION
STREAMING SETUP:
PC: ASUS ROG GT51CA
MICROPHONE: SHURE SM7B
ARM: RODE PSA1
3. Nadeshot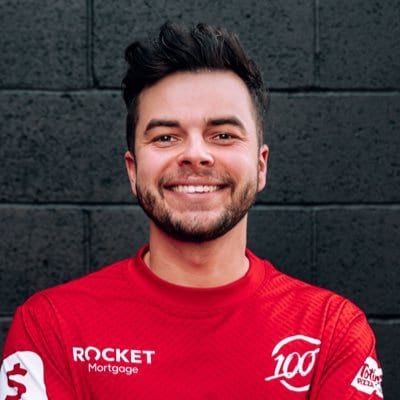 Not many can compare their COD skills with Nadeshot. His experience and knowledge of the game allows him to outplay most of his opponents, and watching him is a must for anyone who's looking to become a pro in Warzone! He is a past professional player, and his stream is informative and a ton of fun to watch, so definitely check it out!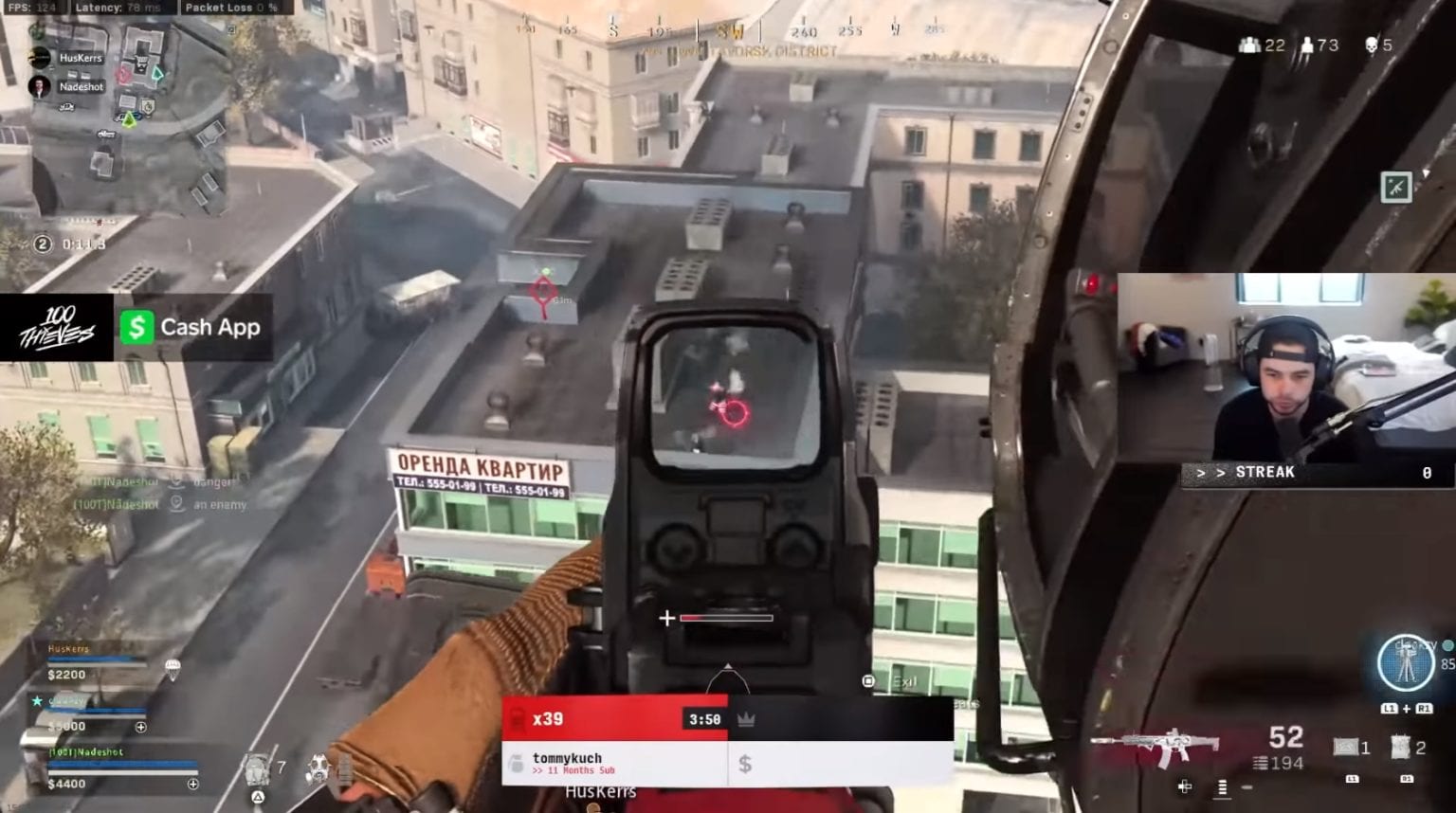 Nadeshot's gaming setup is this:
GAMING PC:
CPU: Intel i9-10980XE EXTREME EDITION
GPU: NVIDIA TITAN RTX (x2) – Nvidia HB Bridge NVlink 3-slot
MOTHERBOARD: x299-E Gaming ASUS ROG STRIX
MEMORY: Team T-FORCE Delta RGB 128GB (16×8) 3000MHz
CASE: NZXT H710i Mid Tower White/Black Chassis
SSD: Samsung 970 Evo Plus 1TB (x2)
COOLING: NZXT Kraken Z73 AIO Liquid Cooler
POWER SUPPLY: Seasonic 1000W 80+ Gold PSU
GEAR: 
KEYBOARD: DUCKY ONE 2 MINI RGB
MOUSE: RAZER DEATHADDER V2
MONITOR: BENQ XL2540
HEADSET: JBL QUANTUM ONE
MOUSE PAD: STEELSERIES QCK+
STREAMING SETUP:
MICROPHONE: SHURE SM7B
ARM: RODE PSA1
WEBCAM: SONY ALPHA A7S II
LENS: SONY VARIO-TESSAR 16-35MM
TRIPOD: JOBY GORILLAPOD SLR ZOOM
2. Summit1G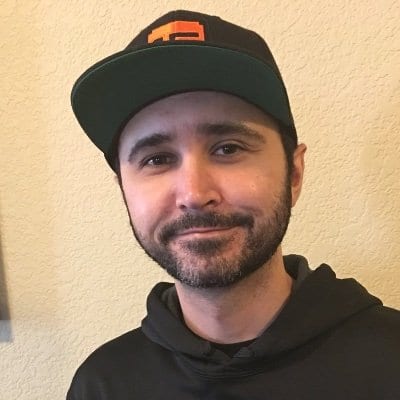 Summit1G is a player you go to see whenever you want to learn something new. He is a very innovative player and he often does extraordinary things which get him kills. In Warzone, he is a beast, and with his emotional character and behavior he makes up for one of the greatest shows on Twitch.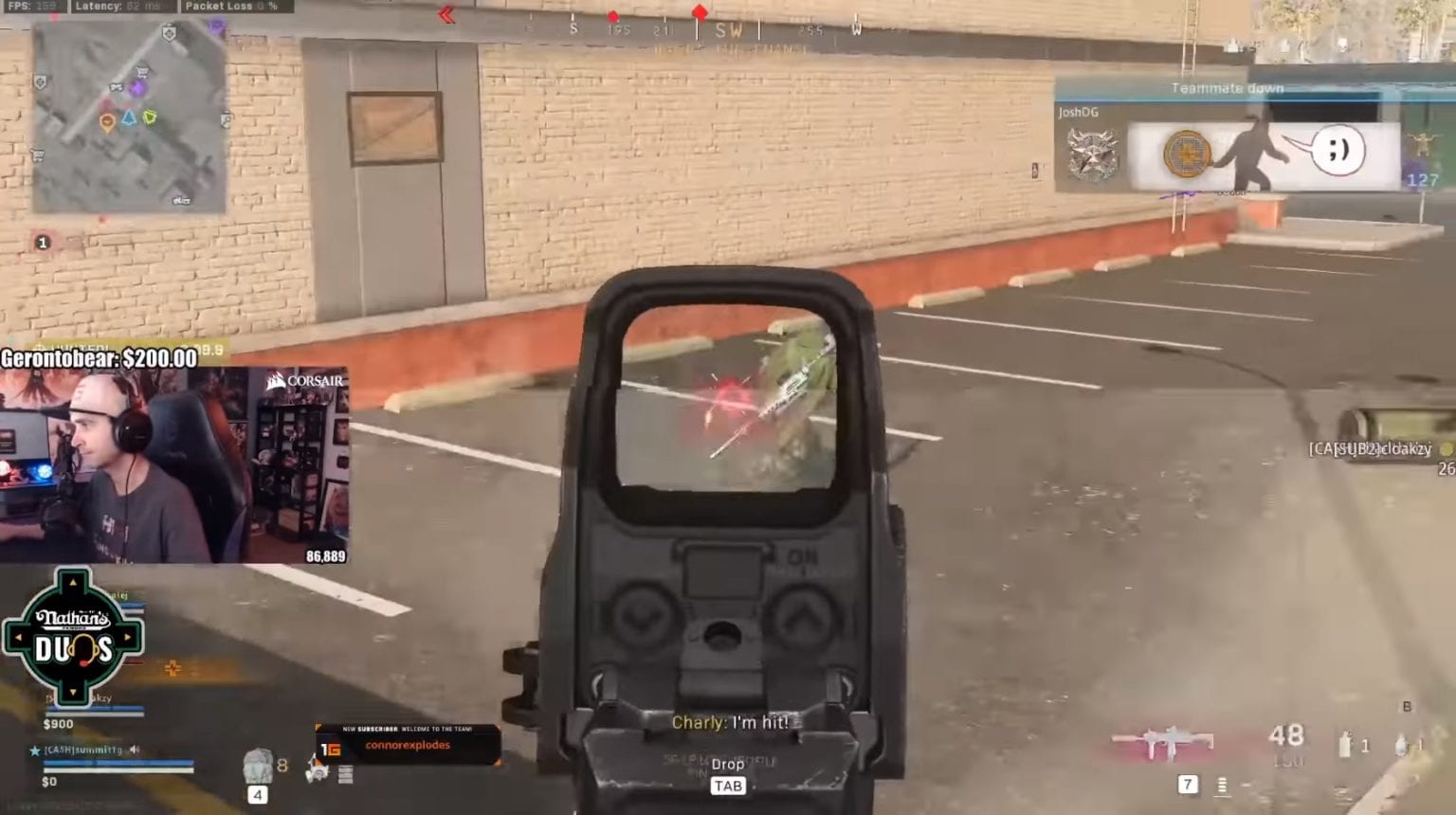 Summit1g uses:
GAMING PC:
CPU: INTEL CORE I9-9900K
GPU: ASUS GEFORCE RTX 2080 TI
MOTHERBOARD: ASUS ROG STRIX Z390-E
MEMORY: CORSAIR VENGEANCE RGB 64GB
CASE: CORSAIR 680X
SSD: WD BLACK SN750 2TB (x2)
HDD: 4X WD BLUE 1TB
COOLING: CORSAIR H150I PRO RGB
POWER SUPPLY: CORSAIR AX1200I
FANS: 18X CORSAIR LL120 RGB
GEAR: 
KEYBOARD: CORSAIR K70 RGB MK.2
MOUSE: FINALMOUSE AIR58 NINJA CBR EDITION
MONITOR: SAMSUNG ODYSSEY G7
HEADSET: AUDIO TECHNICA ATH-AD700X
MOUSE PAD: CORSAIR MM500
CHAIR: SECRETLAB TITAN
STREAMING SETUP:
MICROPHONE: AUDIO-TECHNICA AT2035
MIXER: BEHRINGER XENYX X1204USB
WEBCAM: LOGITECH C922
CAPTURE CARD: ELGATO HD60 PRO
1. Nickmercs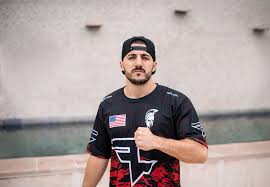 Nickmercs has a long history of being one of the best marksmen that ever lived. He has played multiple titles competitively, like Gears of War, Halo, and Call of Duty. His expertise can rarely be matched and he is simply an icon in the Warzone community.
On his Twitch account, Nickmercs has 4.3 million followers, and as a streamer, he is enormously fun. His gameplay is engaging and full of action, so be sure not to miss it!
Nickmercs setup consists of:
GAMING PC:
CPU: INTEL CORE I9-9900K
GPU: ASUS GEFORCE RTX 2080 TI
MOTHERBOARD: ASUS ROG MAXIMUS XI HERO
MEMORY: G.SKILL TRIDENTZ RGB SERIES 32GB
CASE: NZXT H510 ELITE
SSD: SAMSUNG 960 PRO 1TB
HDD: SEAGATE 4TB BARRACUDA
COOLING: NZXT KRAKEN X62
POWER SUPPLY: SEASONIC FOCUS PLUS 850W
GEAR: 
CONTROLLER: SCUF INFINITY4PS PRO MFAM
MONITOR: ALIENWARE AW2518H
HEADSET: ASTRO A40
STREAMING SETUP:
MICROPHONE: SHURE SM7B
WEBCAM: LOGITECH BRIO